Patrick & Henry Community College welcomed Virginia Community College System's (VCCS) Chancellor, Dr. David Doré, to campus on Thursday, April 14 as part of his statewide listening tour.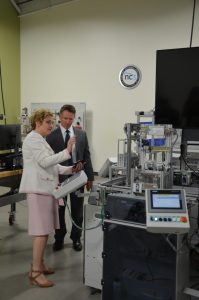 During his visit, Doré met with a variety of P&HCC stakeholders to answer questions and share his philosophy for the future of Virginia's community colleges. Emphasizing the priority of assuring every Virginian a job that pays well and adapting to the needs of the community to do so, Doré said, "Our learners need to understand the financial benefits of the learning pathways before them. Good financial literacy and educating parents on the income potential their children have is critical. Community colleges should not be the second choice – it's the smart choice."
Staff and students at P&HCC's Manufacturing & Engineering Technology (MET) Complex shared the real-world work they are doing to prepare for jobs of the future in automation, instrumentation, mechatronics, engineering, and motor control.
"I was most attracted to the Virginia Community College System because of the kinds of innovative programs available. There are some, but there aren't a whole lot of colleges across the country modeling where we need to move in the future. This institution (P&HCC) is really poised well with the work that you've been doing to continue to do that work. In the community college world, a lot of institutions are just beginning to start some of these programs, and you have the outcomes and data to show tremendous work," Doré said.
In addition to visiting with P&HCC staff & students, community members, and local education partners at P&HCC, Dore participated in the presidential inauguration ceremony honoring P&HCC's fourth president, Dr. Greg Hodges, on Friday.
Doré assumed the role of Chancellor on April 1. He comes to Virginia following service as president of campuses and executive vice chancellor for student experience and workforce development at Pima Community College in Tucson, Arizona.