Authorities continue to receive reports from concerned residents after an April 4 hailstorm caused damage to homes in several local communities.
Henry County Sheriff's Chief Deputy Wayne Davis said the storm damage prompted "a large influx of out-of-town contractors" visiting neighborhoods. "It has been an ongoing problem since the hailstorm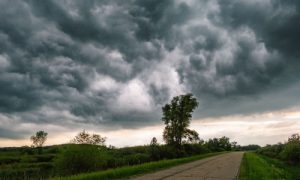 ."
Davis said some try to take advantage of affected homeowners by asking for up-front payments but not making the repairs, price gouging, charging for unnecessary repairs, and doing poor-quality work. They also allegedly may disappear—leaving the property owner victimized a second time. 
Other issues have surfaced as well. For example, a contractor from North Carolina may be licensed in that state but not in Virginia.
Even if a contractor has a license to operate in Virginia, "most from out-of-town don't have a business license to operate" in the county, Davis said.
Additionally, authorities received a report on April 18 that "an out of state contractor was putting up signs at the intersection" of Farmingdale Drive without the necessary permission or consent, Davis said. 
To prevent many of the issues, Davis recommends making sure contractors have the proper licensing, including a Virginia contractor's license and a Henry County Business License. 
Davis recommended residents ask to see permits/licenses and/or proof of insurance coverage before hiring a contractor.
"I would still ask for all of that even if they are local," Davis said. 
Also, ensure contractors obtain the necessary permits to do the job. Get estimates from multiple contractors and your insurance company, the release added.
Davis also recommends rejecting any offer that seems too good to be true, making sure the contract details all work to be performed, including costs, projected completion date, and how to negotiate changes and settle disputes. 
Get agreements in writing. Read the contract carefully, and if you don't understand every word, take it to an expert. Never sign a contract with blank spaces to be filled in. Don't sign completion papers or make final payments until the work is done correctly. 
Don't wire money or use reloadable debit or gift cards. There is no legitimate reason to use this form of payment. Don't offer personal financial information over the phone. Know who you are dealing with and always ask for identification.
To check licensure and endorsements, visit https://www.dpor.virginia.gov/LicenseLookup. 
Home owners also are advised to verify insurance. Contractors should have disability and workers' compensation insurance. If they don't, you may be liable for accidents on your property.
To determine whether a contractor is insured through the Virginia Workers Compensation Commission, use the search tool located at https://www.ewccv.com/cvs/search?ref=https://workcomp.virginia.gov/.
Authorities also recommend using the Better Business Bureau, www.bbb.org, and internet search engines to check businesses. Fraudulent firms change names frequently, so search the web for their address and phone number, and include terms like "review," "scam," and "complaint."