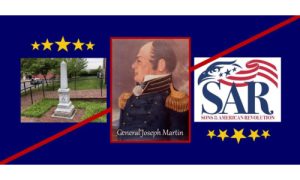 Hosted by the Colonel George Waller Chapter of the Sons of the American Revolution, the National Society of the Sons of the American Revolution will sponsor an event to commemorate the life and work of General Joseph Martin on Saturday, April 29, at 1 p.m., at the Historic Henry County Courthouse, 1 East Main Street.
U.S. Congressman Morgan Griffith (R-VA) will serve as the Distinguished Speaker. There is no cost to attend.
The SAR Honor Guard, the Martinsville-Henry County Historical Society, and visiting chapters of the Sons of the American Revolution and Daughters of the American Revolution will participate. 
The Martinsville-Henry County Heritage Center & Museum, located within the Historic Henry County Courthouse, will be open prior to and following the ceremony. A granite monument honoring Martin, donated by his descendants in 2008, is located on the lawn. The building and grounds are fully handicap accessible. 
Joseph Martin, Jr. (1740–1808) was a brigadier general in the Virginia militia during the American Revolutionary War. His frontier diplomacy with the Cherokee people is credited with not only averting Indian attacks on the Scotch-Irish American and English American settlers who helped win the battles of Kings Mountain and Cowpens but with also helping to keep the Indians' position neutral and from siding with the British troops during those crucial battles. Historians agree that the settlers' success at these two battles signaled the turning of the tide of the Revolutionary War in favor of the Americans. 
He lived in Henry County, Virginia, at his plantation, Belmont, on Leatherwood Creek, not far from his friend Governor Patrick Henry. The City of Martinsville, Virginia, was named in his honor during his lifetime. 
Compatriot Jarred Marlowe, Chapter President, stated, "While men such as Washington, Lafayette, and Jefferson come to mind as key figures of the Revolutionary War, by no means are they the only ones who deserve credit. Please join us as a community to recognize a man whose deeds are often overshadowed by his compatriots. General Joseph Martin had an extraordinary life spent as a diplomat, general, stateman, explorer, founding father of our great nation, and one of Henry County's most influential residents." 
The Sons of the American Revolution is a non-profit, non-partisan organization dedicated to promoting patriotism, preserving American history, and teaching American history to future generations. 
Follow the event at https://www.facebook.com/events/548904837227450