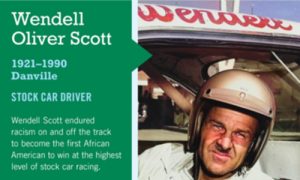 The Library of Virginia and Dominion Energy recently recognized Wendell Scott posthumously, presenting the trailblazing African American motorsports legend with the esteemed 2023 Strong Men and Women of Virginia Award. 
In celebration of Scott's achievements and the work of the Wendell Scott Foundation, a traveling exhibit will be showcased at the Martinsville Library from now until September 16. The exhibit offers a unique opportunity for the public to delve into the life and accomplishments of Scott, exploring his impact on motorsports and his significant contributions to Virginia's history.
Scott etched his name in history as the first African American to compete full-time in NASCAR's premier series, shattering barriers and paving the way for diversity and inclusion in motorsports. His unwavering determination, extraordinary achievements, and indomitable spirit continue to inspire generations, leaving an indelible mark on American motorsports history.
The award, which celebrates exceptional contributions to the state, the nation, or respective professions, was accepted by Warrick Scott, CEO of the Wendell Scott Foundation and Wendell Scott's grandson, during a special ceremony held in honor of his grandfather's enduring legacy.
Warrick Scott, a visionary leader in his own right, carries forward his grandfather's legacy. The Wendell Scott Foundation tirelessly works to preserve and promote Wendell Scott's remarkable contributions by providing educational opportunities, mentorship, and support to aspiring young individuals pursuing careers in motorsports and beyond.
"We are deeply honored by this recognition of my grandfather's legacy," Warrick Scott said. "Wendell Scott's enduring impact on motorsports and civil rights is a testament to his resilience and determination. Accepting this award on behalf of the Wendell Scott Foundation is a proud moment, as we continue to inspire and empower future generations to break barriers and fulfill their dreams."
Following its stop in Martinsville, the exhibit will move to the Ruby B. Archie Library in Danville, where it will be on display from November 13, until December 23. To learn more about The Wendell Scott Foundation's impact, visit www.wendellscott.org, contact info@wendellscott.org or call (434) 533-0097.