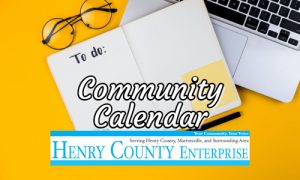 (Event information/calendar items must be received by 5 p.m. on the Tuesday before the desired publication date. Email to dhall@theenterprise.net.)
Meetings
The Martinsville-Henry County Lions Club regularly meets on the second and fourth Tuesdays of each month at 6:30 p.m. at the Pacific Bay Restaurant, 530 Commonwealth Blvd, Martinsville.
Monday, September 18
P&HCC Local Board meeting, 11:30 a.m. in the Hooker Exhibit Hall, Frith Economic Development Center. Lunch will be provided at noon.
Events
Saturday, August 26
Bikers for Babies, MHC, registration begins at 10 a.m., kickstands up at noon. Lunch is provided for participants from 1:30 to 3, with giveaways and guest speakers. The event is to raise money and awareness for the Pregnancy Care Center of MHC, www.pregcc.com.  For more information, call Patrick Rusmisel at (276) 734-9585.
Saturday, September 2
Storytime, 10 a.m. at Spencer Penn Centre. This monthly program will include special readers, crafts, and other fun activities related to Falling Leaves!  Come out and join us for this free program, fit for all ages! No registration needed.
Saturday, September 9
Painting workshop at the Imagination Lavender Farm, 3590 Green Hill Drive, Martinsville, 9:30 to 12:30, led by Award-Winning Artist, Lisa Garret. Cost is $40 (all supplies), free light lunch call of text (276) 734-2828 to enroll. Attendance is limited. Participants will produce their own 11 x 14 painting. The class is for beginners and above, with acrylic paints and basic primary colors.
Friday, September15
MHC is for Book Lovers Trivia and Dinner with Authors/Silent Auction, from 6-8 p.m.  at the Spencer-Penn Centre, $30 adults/$20 children. Limited seating.
Saturday, September 16
MHC is for Book Lovers Bookfest at the Spencer-Penn Centre, 11 a.m. to 3 p.m.
Send off summer with a bang and welcome fall with a fun evening by sharing your original works of poetry as TheatreWorks hosts Open Mic Poetry Night. "Younger" audience members are welcome from 6-6:30 p.m. for G-Rated Performances – 2-minute time limit. From 6:45-8 p.m. – PG-Rated Performances are scheduled, with a 5-minute time limit and up to 2 poems. Register at https://docs.google.com/forms/d/e/1FAIpQLSfuhkQvpzQhprHXgpe5wCDfHmsiMyzwVT16gY1Dg3mhoe283Q/viewform.
ONGOING
Saturdays through November 18
Martinsville Uptown Farmers' Market is open from 7 a.m. to noon, with the freshest fruits and veggies, homemade snacks, locally raised beef, and more. July 5-September 27, the market is open Wednesdays from 7 a.m. to noon.
Tuesdays in September – A series of four genealogy classes will be offered at the Bassett Historical Center on Tuesdays in September (5, 12, 19, 26), from 10 a.m. until noon. Classes are free and open to the public, but there will be a limit of 12 participants. Call (276) 629-9191 to register.
The Blue Ridge Regional Library offers free one-day passes to the Virginia Museum of Natural History and the Henry County YMCA with your library card. The passes are good for one day and exclude special events. There is a wait period before you can check out the pass again. For more details and exclusions, visit brrl.lib.va.us. 
The Fontaine Ruritan Club hosts Bingo every Tuesday at 1903 Joseph Martin Highway, Martinsville. Doors open at 5:30 and games begin at 7. Money from Bingo supports community service awards, scholarships, and other community efforts. 
Book Bingo on the 4th Tuesday of the month at the Martinsville Branch of the Blue Ridge Regional Library, 11 a.m. to noon. Call (276) 403-5430 to register. 
Medicaid eligibility renewals have resumed. Martinsville-Henry County Coalition for Health and Wellness (MHCCHW) offers Medicaid/FAMIS application and renewal assistance for Virginia residents from birth to 64 years of age in-person: Wednesdays 10 a.m.  – 1:30 p.m. at Community Storehouse, 128 E. Church St (lower level of the old Leggett Building) in Martinsville, or by phone, Monday – Friday, 8 a.m. to 5 p.m. MHCCHW's specially trained Medicaid/FAMIS Outreach Advocate is available to help. Call or text Ann Walker at (276) 732-0509 to learn more or for an appointment.
The Henry County Adult Learning Center offers free in-house and online classes to help prepare for college, career, or earn your high school equivalency or GED. Call (276) 647-9585.