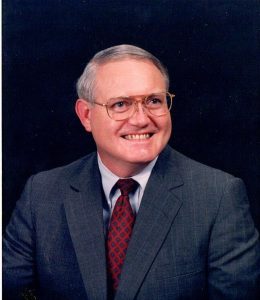 Thomas Elmo Hall or "Tommy" to his friends and family, passed away at Forsyth Hospital in Winston Salem September 29, 2023, at the age of 78. He was born on August 3, 1945, in Huntington, West Virginia, to Elmo and Virginia Hall. He is survived by his sister, Nancy Kerrigan Rudquist.
Tommy's legacy lives on through his family, including his devoted wife, Betty Allen Hall. He was a dedicated father to his children, Thomas Korber Hall (Kory) and Nancy Kerrigan Hill (Kerri), and grandson, Thomas Lewis Hall.
Tommy was a Martinsville High School Bulldog. He played varsity football and graduated in 1964.   He pursued his studies at Clemson University, earning a Bachelor's degree in Industrial Management. During his time at Clemson, Tommy's commitment extended to the ROTC, which led to his commission as a 2nd Lieutenant in the United States Army upon his graduation in 1968.
Tommy Hall served his country with honor and distinction during the Vietnam War, primarily stationed in Korea. His remarkable leadership and sense of duty were evident as he was entrusted with the responsibility of commanding a facility that stored radioactive materials. Later, he continued his service in Fairbanks, Alaska, before being honorably discharged from active duty in 1972. His commitment to the military endured for over three decades in the US Army Reserves, where he achieved the rank of Lt. Colonel.
One of Tommy's proudest roles was that of a single parent to Kory and Kerri. He provided them with a loving and nurturing environment, shaping them into the remarkable individuals they are today. Tommy was not only their father but also their mentor, instilling values that will continue to guide them throughout their lives.
Tommy had a special bond with his mother, Virginia, affectionately known as Mee Maw, and his sister, Nancy. They were an integral part of his life, providing unwavering support and love.
Tommy's influence extended to the extracurricular activities of his children, encouraging Kory in the Boy Scouts of America and supporting Kerri's interests for dancing and concert band. He took great pride in their achievements.
In his 26 years of marriage to Betty Allen, Tommy was a loving husband. He was also a devoted stepfather to Brian Scott Turner (Scott) and Lauren Elizabeth Turner (Lauren). Together, they created cherished memories while exploring places like Ireland, Mexico, and Colorado.
Tommy was a man of many talents, skilled in plumbing, electrical work, and carpentry. He had a passion for projects around the house, from refinishing floors to building bathrooms. At the time of his passing, he was eagerly setting up a vast model train room, a testament to his creativity and ingenuity. He was an avid reader with a curious mind.
One of Tommy's prized possessions was his first car, a blue 1951 Ford, which he initially purchased for $50. This vehicle held sentimental value and represented his enduring connection to his past.
Throughout his life, Tommy forged lifelong friendships, including those with Ken Wilson and Eddie Gravely. He had the privilege of attending a Clemson football game with his dorm mate Ed White in 2022, a cherished memory that brought him great joy.
In his final year, declining health led Tommy in and out of hospitals and nursing facilities. However, he was never alone; he was continuously surrounded by loved ones who provided unwavering support and comfort.
Thomas Elmo Hall, Tommy, leaves behind a legacy of love, dedication, and an indomitable spirit. He will be deeply missed by all who had the privilege of knowing him.
A memorial service to celebrate Tommy's life at McKees Funeral Home on Wednesday October 4 at 7:00 PM. Friends and family were received at 6:00 PM. In lieu of flowers, the family kindly requests that donations be made in his memory to the Wounded Warriors Project at www.woundedwarriorproject.org.
Tommy's memory will forever live on in the hearts of those he touched. May he rest in peace.
McKee-Stone Funeral Home, Martinsville, Va. is serving the family.
To express condolences online, please visit www.collinsmckeestonemartinsville.com