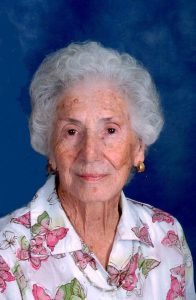 Helen Knott, 98 ½ years of age, of Martinsville, Va. passed away Friday, September 29, 2023.  Helen was born on April 23, 1925, in Francisco, N.C. to the late Fletcher Morris Smith and Carrie Ward Smith.
In addition to her parents, Helen was preceded in death by her husband of 66 ½ years, Jack Knott; her son, Paul Knott and his late wife, Lisa Knott; sisters, Cornelia Thurman, Lois Hill, Mildred Robertson, Margaret Flippen, Dorlee Barnett and brother, Jack Smith.
She is survived by her sons Wayne Knott and Allen Knott of Martinsville; granddaughters, Keri Knott & Ashley Eanes; and grandson Kevin Marlin.
Helen was a longstanding member of Kearfort Memorial Baptist Church.
During WWII Helen worked at Pannill Knitting Company.  Afterwards she went to work at Dupont but later left there and went to work for Lacy Knitting Company, which allowed her to be away from work during the summertime so she could be at home to raise her sons.
A visitation was held on Wednesday, October 4, 2023, at Kearfott Memorial Baptist Church.  A funeral service followed and was be officiated by Reverend Dr. J.D. Harmon.  Interment was in Roselawn Burial Park.
In lieu of flowers memorials may be made to Kearfott Memorial Baptist Church,
1403 Rivermont Heights, Martinsville, VA  24112.
McKee-Stone Funeral Home, Martinsville, Va. is serving the family.
To express condolences online, please visit www.collinsmckeestonemartinsville.com.