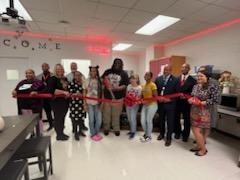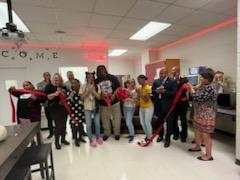 "When you need a break, The Kennel is always awake" is the motto of The Kennel, a café operated by Martinsville High School (MHS) students at Martinsville Middle School.
The Kennel, which caters to teachers, officially opened on Thursday, October 12 as part of the entrepreneurial program through the MHS Career & Technical Education (CTE).
Martinsville High School senior Monica Watkins said she and her fellow students were excited to open the cafe and serve the teachers who served them while they were in middle school.
"It is always a pleasure to see our teachers. We are glad to sit here and be hosts for a space where teachers can relax and rewind when they are having a hard day," she said.
Watkins said the cafe is open all day, with the students running it switching off between class periods. She works there during the last period of the day.
"We are getting the credit that we" could have gotten from a normal internship. "So, we get this on our resume," she said.
Fellow senior Robert Davis said students also gain the experience of running their own businesses.
"We have to keep up with everything: Inventory, counting the drawer," he said.
Davis said students had the option to sign up for the first semester, second semester, or both, with most of them choosing to work at both semesters. 
Watkins decided to do it for the first semester, but "depending on how I really feel about it at the end of this semester, I will probably pick next semester as well," she said.
Several of the students, including Watkins and Davis, joined the program because they aspire to become entrepreneurs in the future and wanted business experience.
Shauna Hines, Martinsville City Public Schools Coordinator of STEAM, CTE, and Fine Arts Administration, recommended Watkins to join. 
Davis, who joined on the suggestion of Chris Talley, MHS business teacher, said the Kennel was supposed to start last year around this time at the high school.
"We had to move it here because it was a better space here. We have more opportunities here, and we didn't want students to mess it up or any type of thing," he said.
Since opening, Watkins said she's learned how to count money and keep inventory.
"Inventory is a big thing because if you run out of one thing you need to go get that. We have people that come in as our regulars, and they come in here and we know exactly what they want," Davis said. "They'll come in and get the same thing, so it's like you actually have your own customers."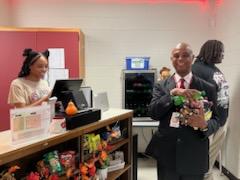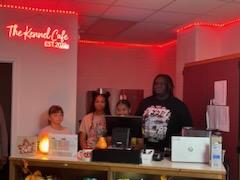 Watkins said she loves working at the Kennel.
"It's really not that hard. It's also like we also kind of get peace of mind being here from school if we're stressed because just the vibe of the room," she said.
"We get to see all the teachers that we grew up having through middle school," Davis said. "So, it's really a good experience catching up with them."
Watkins said the students conducted a survey and asked the teachers what they would want to see available at the Kennel.
"We got a list of things we thought we should do, and we asked them what they would like. Would you prefer this instead of this over that," she said.
When doing the Kennel's smoothies, Davis said samples of a variety of different flavors were given to teachers to see which ones they would like best. The most popular ones were chosen as stock.
"We're very grateful for the opportunity that it provides to our students to get work-based experience," she said.
Martinsville City Public Schools Superintendent Dr. Zeb Talley said the school division wants to always offer its students an opportunity to have career opportunities, whether on the collegiate level or in CTE.
"This is just another great opportunity" for our students, Talley said. "Business encompasses math, social skills, and partnerships and cooperations. We want this to be an incubator, something the students can do in school and then bring it out to the wonderful, expanding community that is Martinsville."
The café also offers candy, bagels, sodas, popcorn, smoothies, breakfast sandwiches, and other items for purchase. It also has several couches, chairs, relaxing lighting, music, and massage chairs.
Proceeds from the café go towards the high school's entrepreneurial program.
Martinsville Middle School Principal Ama Waller said the school is fortunate to have the space for staff to come to relax, have a good, quick snack, and enjoy the atmosphere.