On October 6, while conducting a traffic stop at the intersection of Virginia Ave. and Daniels Creek Road, deputies noticed a woman was operating a green Chevrolet Camaro, which was unrelated to the initial traffic stop. At that time, the operator had outstanding warrants issued by the Martinsville City Police Department for failure to appear.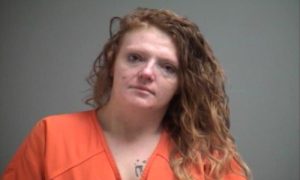 Upon approaching the vehicle and issuing commands for the woman to remove the keys from the ignition, she and other passengers failed to comply with the deputies' instructions. This led to a pursuit on Daniels Creek Road. Despite their efforts, deputies lost sight of the vehicle in the 3000 Block of Daniels Creek Road.
Soon after, multiple calls were received by the Martinsville-Henry County 911 Center, with reported sightings of the Chevrolet Camaro on Milton Lee Drive, Collinsville. Eyewitnesses indicated that several individuals fled from the vehicle, with one allegedly carrying an assault-style rifle. The Sheriff's Office deployed both Drone and K9 units to conduct an extensive search, but the woman and her associates evaded capture that day.
The next day, October 7, deputies focused their search on Milton Lee Drive, Collinsville, acting on credible tips from citizens. The woman was reportedly sighted walking with a firearm in that area. Deputies located and apprehended Crystal Annette Williams, 32, at 28 Milton Lee Drive, Collinsville, without incident. Following her arrest, she was turned over to the Martinsville City Police Department for the processing of their outstanding warrants. 
The Henry County Sheriff's Office has charged Williams, of 2560 Blackberry Road, Bassett, with felony eluding. She is currently being held without bond in the Martinsville City Jail.
The Sheriff's Office extends its gratitude to the community for its vigilant assistance and continued support. 
Anyone with additional information about this incident is asked to contact the Henry County Sheriff's Office at (276) 638-8751 or Crimestoppers at 63-CRIME (632-7463). The Crimestoppers Program offers rewards of up to $2,500 for vital information related to crimes. The nature of the crime and the relevance of the information provided will determine the exact reward amount.