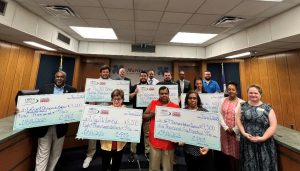 The Chamber's Partnership for Economic Growth (C-PEG) recognized its 2023 Grow Martinsville-Henry County graduates with the check presentations as a result of the competitive pitches. 
Award recipients at last week's event include Cozy Temptation – $2,500; LeGrant Chiropractic Back & Neck Pain Relief Center, LLC, – $4,000; Wigs Unlimited – $8,000; N & T Transportation Service – $9,500; Backspace Coffee – $10,000; The 3D Shop – $12,000. The cash and in-kind Grow awards for 2023 total $66,000 for the expanding businesses.  
Much of this funding was made possible because of the grant C-PEG received from the Tobacco Region Revitalization Commission which awards a dollar-for-dollar match to businesses from the targeted sectors including agribusiness, technology, small-scale production, manufacturing, and healthcare businesses. 
Martinsville-Henry County Chamber's Partnership for Economic Growth (C-PEG) is an independent, yet closely aligned, charitable affiliate of the Martinsville-Henry County Chamber of Commerce. C-PEG is charged with funding and supporting the area's efforts to improve economic growth. 
Annually, the C-PEG offers GROW MHC – a business plan competition that includes a requirement to participate in a boot camp to help small businesses evaluate their entrepreneurial mindset readiness, write a business plan, and present a business pitch to compete for funding and receive ongoing mentoring. 
The training component is provided by Patrick & Henry Community College in partnership with C-PEG, Longwood Small Business Development Center, Martinsville-Henry County Economic Development Corporation, staff from the city and county, and local entrepreneurs, several of who are graduates of the program which began as a Community Business Launch Grant through the Virginia Department of Housing and Community Development.  
Partners that support this important C-PEG economic development initiative include the City of Martinsville, Henry County, Campbell Family Group, George W. Lester II Fund, and The Anonymous Fund through the Community Foundation Serving Western Virginia and a three-year grant, Tobacco Region Revitalization Commission for specific industry sectors. Additionally, Appalachian Power is a sponsor of Startup and Grow MHC, and American National Bank is the small business sponsor for Chamber and C-PEG events.  
With the recent graduates and awards, this initiative has awarded 60 businesses with more than $420,622 in cash and in-kind funding, and had 275 graduates, This group will build on the accomplishments of Startup and Grow MHC businesses while maintaining an 87 percent success rate in comparison to the nationwide 50 percent average for small businesses.
All participants received training at no cost, and any participant who opens a business will receive a one-year, free membership in the Martinsville-Henry County Chamber of Commerce. 
Please contact Brenell Thomas with the Martinsville-Henry County Chamber of Commerce/C-PEG at (276) 632-6401 with questions about participating in the next program offering.