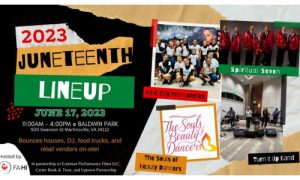 The Fayette Area Historical Initiative (FAHI) is set to hold its Juneteenth celebration on Saturday, June 17, at Baldwin Park from 11 a.m. to 4 p.m., in partnership with Eastman, Carter Bank & Trust, and Uptown Partnership. 
Admission is free to the event, titled "Looking Back and Reaching Forward." 
Music will be provided by The Spiritual Seven, Turn It Up Band, LaMoves Afro Blendz, and MHC Elite Prancerettes.
The event will include activities for youngsters, like bounce houses, along with snow cones, and cotton candy available for youngsters.
Tammy's Grill, Kornna Kitchen, and Hylton's Wood-Cooking Grill were among the recent confirmed food trucks.
DeShanta Hairston, FAHI's executive director, said the event is to celebrate the emancipation of the last slaves in Texas.
"They weren't made aware that they were freed until 1865, on June 19," she said.
Hairston said it is vital to acknowledge and educate the community on the significance of Juneteenth not just in black history, but in American History. 
"This Juneteenth celebration creates a platform with the potential to cultivate a better understanding of black history and culture, which fosters better relationships between groups with different backgrounds," she said.
Special musical performances will be given by The Spiritual Seven, The Turn It Up Band, The Souls of Beauty and Dancers, and the MHC Elite Prancerettes. A DJ will play family-friendly music in between the live music sets.
A bouncy house and an obstacle course will be provided by King Kidz Rentals, and Buzy Bounce will provide free snow cones and cotton candy. 
Tammy's Grill, Kornna Kitchen, and Hylton's Wood Fired Grill will be onsite with food for purchase.
So far, Hairston said at least 15 vendors will be onsite at the celebration. FAHI is still accepting vendors for the event.
While the event has been held before, Hairston said it has not been on this scale.
"FAHI had something in partnership with the chamber last year at the Farmers' Market, so this is the first time it will be on such a big scale," she said.
Hairston said FAHI wants to try and make the Juneteenth celebration an annual event.
"I don't know how many people" will attend, "but I'm hoping that it will be a really good turnout so that we can make this an annual celebration that we can grow over time," she said.
For more information, visit Facebook.com/FayetteAreaHistoricalInitiative, www.fahimuseum.org, or call the office at (276) 732-3496.