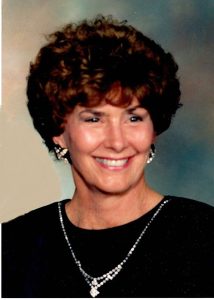 Roxie Ann Cook Fox, 89, passed away Tuesday, July 11, 2023. She was born November 19, 1933, in Crozet, Va. to Minor Cook and Zeta Lewis Cook Vess. Her stepfather, Virgil Venston Vess, Sr., helped raise her from seven months old.
In addition to her parents, she was preceded in death by her stepfather; husband, Dr. Nelson M. Fox Jr.; brothers, Minor Lynwood Cook, William "Billy" Cook, Virgil Venston Vess, Jr., Marvin Howard Vess; sisters, Edith C. Schlisher, Edna A. Humphreys and Jean V. Joachim, son-in-law, Vince Perrin; grandson, Christopher Mnich.
She is survived by her daughter, Judi Gray Fox Perrin; son, Nelson "Burr" M. Fox, III (Lori Handy Fox); daughters, Ellen Ann Fox Mnich (Phil) and Mary Katheryn Fox Freeman; brother, Robert L. Vess (Yvonne "Bunky"); sister, Laferne Harris (Ralph); grandchildren, Mandee White, LB Fox, Luke Fox and Liza Ann Fox, Michael Mnich and Marcus Mnich, Nelson Freeman, Ben Freeman, Jesse Freeman, Cecilia Freeman and Jenny Beth Freeman; great grandchildren, Jordan Elizabeth White, Emalee Virginia White, Lydia Grace Fox, Tate Freeman, Oakley Freeman, Channing Freeman, Travers Freeman, Sullivan Freeman, Ronan Freeman, Liam Freeman and Landrick Freeman.
Roxie was a pediatric nurse and a loving mother, grandmother and great grandmother. She was a very supportive wife and dearly loved her husband and family. She was an excellent golfer but when tennis became popular, the tennis dresses were cuter than the Bermuda shorts, so she started playing tennis and became very proficient at that. She was a member of the charity league, and she played bridge. She was a very active member of Broad Street Christian Church.
A visitation will be held from 10:00 a.m. to 11:00 am on Friday, July 21, 2023, at Broad Street Christian Church. A funeral service will be held at 11:00 am and will be officiated by Pastor Hayden Cran. Interment will follow at Corinth Christian Church Cemetery, 9153 Dabneys Mill Road, (Route 604) Enfield, Virginia 23106.
Memorials may be made to the Broad Street Christian Church, 106 Broad Street, Martinsville, Va. 24112.
Arrangements are by McKee-Stone Funeral Home.