After 41 years of service to the City of Martinsville, City Manager Leon Towarnicki officially retired on Monday, July 31.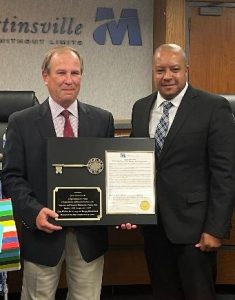 While he found it hard to decide what his career highlight is, Towarnicki believes his progression through the ranks is particularly notable.
Towarnicki started his career with the city when he was hired as the city's engineer in 1982.
"I look back on what I did starting and coming in as the city engineer. My plan at that point, which was in 1982, was to come and stay for a couple of years and then move on to something else," he said.
But it didn't work out that way.
Towarnicki became the director of Public Works in 1985, and the interim city manager in 2011. On March 26, 2013, Towarnicki was named Martinsville's city manager.
Towarnicki believes his 10-year tenure in the top slot, and having maintained a good relationship with all his mayor, city council members, and staff, is impressive.
"That's a pretty long tenure by most standards for a city manager. When you look across the state, a lot of managers don't survive long at all," he said.
Most leave "usually within a few years. So, the fact that I think I was able to do that for probably what would seem to be an extended period of time for that particular position" is significant.
Throughout his more than four decades with the city, Towarnicki believes his greatest accomplishment was being able to balance budgets and keep the city's reserves where they were needed despite several financial challenges.
"With our finance team, we were able to work through that year after year. Our budgets were balanced and there weren't a lot of rate increases that we ended up asking for council to approve, and yet continue to fund just about everything that everybody was asking for with the city departments," he said.
Towarnicki said the city was also able to get a lot of projects done through creative financing.
One project he is particularly proud of is the result of the city's landfill closure in 2005. The locality was required to install a cap over the top of the landfill during that process.
"Landfills produce methane, so we ended up with a methane issue," Towarnicki said, adding the city then installed a methane collection system and applied for a grant for a methane electric generator.
"We were able to take a closed landfill, capture the methane, collect it, pipe it, and then installed a pretty large methane gas generator that backed electric power back onto the city's grid," he said.
Projects he wished he could have seen through include the project at the BB&T building, where contractors are currently removing asbestos, the potential hotel project at the site of the former National Guard Armory, and the now five-year plan with Landmark Development.
"That should be starting up here literally any day now, where part of the old American Plant that burned maybe about 2015 or so, we were able to get a grant through Virginia Brownfields to get it cleaned up," Towarnicki said.
By doing that, Towarnicki said the city partnered with the developer on the current plan to put a $12 to $13 million senior living complex at that site.
"The site's been cleaned, the plans have been submitted and approved, the contractor and the developers have obtained financing and pretty much gotten all that squared away. So, it's at a point where the project's going to kick off here anytime within the next month or so," he said.
Another plus is the solar project at the closed Lynwood Golf Course. He expects construction to start on that later this year, with the site projected to be online possibly in the second half of 2024.
"There's half a dozen or so projects in various stages of starting," Towarnicki said, and he will miss being involved in the city's projects.
"There's always a lot of variety with the different projects. There really was no time to get bored, that's for sure," he said.
Towarnicki will also miss the people he worked with during his tenure with the city.
"I worked with some fantastic people. We had a great staff and a good working relationship with our staff, being in contact with those people day in and day out," he said.
Towarnicki plans to spend his retirement taking "some decent vacations," because since taking the helm, everything has revolved around city council meetings and putting agendas together for upcoming meetings.
"It's been difficult to really get any lengthy time off," Towarnicki said. "Usually, when we take a vacation – if we do that, we'll squeeze in a couple of days toward the end of one week and maybe the first day or two of another week," he said.
He also plans to travel and visit family.
Even with those plans, Towarnicki is not ruling out future work.
"At some point, I may get back in and consider doing something, maybe on a limited part-time basis, depending on what comes up and what opportunities kind of show up."