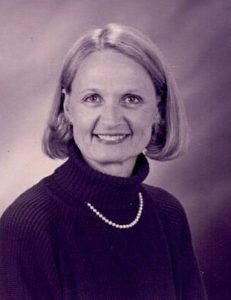 Nancy Jarvis Thomas left this earth an angel on June 22, 2023, due to complications from a bone marrow transplant. Her health rapidly declining, Nancy's providers proposed the procedure as her only chance to achieve her singular wish – additional time with her beloved family, friends, and cherished grandsons, Jaxon and Saxon.
Nancy is preceded in death by her mother, Arbutus Mozelle Jarvis and her father, Edgar Odell Jarvis.
Nancy is survived by her husband of 53 years, Roy Thomas of Martinsville; son Jason, daughter-in-law Minerva, and grandson Jaxon; son Justin, daughter-in-law Chelsea, and grandson Saxon; sister Joan and brother-in-law Donnie; sister Susan, niece Emily, and nephew Tabor; brother Odell, niece Jessica, and nephew Jacoby.
In addition to her eternal devotion to her family and friends, Nancy possessed an infinite appetite for higher learning. Nancy graduated from Stratford College with a B.A. in Spanish and, later, as a full-time parent and teacher, pursued and achieved the near impossible, earning three (3) advanced degrees. Simultaneously enrolled in Wake Forest University and the University of Virginia, Nancy was awarded an M.A. in Liberal Studies from the former and an M.A. in Education in Curriculum & Instruction from the latter. The University of Virginia was once again her alma mater when she earned her third advanced diploma, an Education Specialist Degree in Administration – Principalship.
Nancy's career in education began in Yanceyville, NC in 1971 but brought her back to her hometown of Danville, VA the next year. From 1976 to 1985, she took a maternity "sabbatical" and raised a family, with Jason born in 1978, and Justin in 1985. Later that same year, she began teaching in Danville again, before joining Martinsville's Carlisle School in 1987, and there spent the remainder of her career as the beloved "Señora" Thomas until her retirement in 2016. Additional administrative responsibilities at Carlisle School included Foreign Language Department Head and International Baccalaureate Program Coordinator.
Nancy's faith was resolute, evidenced by her commitment to the church, its congregation, and numerous charity organizations. As a member of First Baptist Church since moving to Martinsville in 1978, she served on numerous committees and coordinated countless events. Each and every year, she sponsored and funded the Salvation Army food drive, Christmas project for children in need, and the American Heart Association's "Jump Rope for Heart" event, to name but a few.
Nancy was a daughter. She was a sister. She was a wife. She was a mother and a grandmother. She was a friend, an educator, an advisor, and a mentor. She was a moral compass to us all, divinely calibrated and true.
A "Celebration of Life" was held on Saturday, July 22nd, 2023 at First Baptist Church located at 23 Starling Ave, Martinsville, VA 24112 and was officiated by Reverend Dr. Libby Grammer.
"Flowers are greatly appreciated, or, memorial donations can be made to "First Baptist Church, Children's Ministry" located at 23 Starling Avenue, Martinsville, VA 24112.  Additionally, donations can be mailed to "Good News Jail & Prison Ministry" located at P.O. Box 66, Martinsville, VA 24112."
Arrangements made and tribute hosted by Collins-McKee-Stone Funeral Home, 109 Broad St, Martinsville, Va.
Loved by all, Nancy is dearly missed.