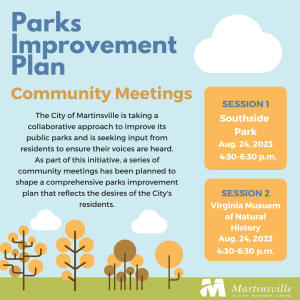 The City of Martinsville is taking a collaborative approach to improving its public parks and is seeking input from residents to ensure their voices are heard. As part of this initiative, a series of community meetings have been planned to shape a comprehensive parks improvement plan that reflects the desires of the City's residents.  
With a commitment to deliver major park upgrades, the City allocated $500,000 from the American Rescue Plan Act (ARPA) in 2022 for park upgrades. Partnering with the West Piedmont Planning District Commission, the City secured a $40,000 grant from the USDA Rural Development Office, supplemented by a $10,000 local match, to initiate the parks improvement plan.  
Collaborating with landscape architecture firm Site Collaborative and River District Consulting Group, the City hopes to combine their expertise alongside resident input to shape the future of the parks. Public park surveys and assessments will be conducted, as well as community meetings in different voting districts.  
"Residents' insights are a crucial part of this project," Mayor LC Jones said. "We invite everyone to participate and contribute to our shared vision."  
Residents are encouraged to attend the following Community Meetings:  
∙         Thursday, August 24, 4:30-6:30 p.m. at the Southside Park picnic shelter, 1224 Ranson Road, Martinsville, and
∙         Tuesday, August 29, 4:30-6:30 p.m. Virginia Museum of Natural History, 21 Starling Ave., Martinsville.  
These informal gatherings provide an opportunity for residents to engage and share their thoughts on the future of Martinsville parks as the city aims to create a comprehensive parks plan based on community input.  
For updates and more information, visit Martinsville-va.gov.