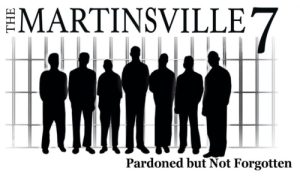 To celebrate the 2021 pardon of the Martinsville Seven, the Martinsville Seven Initiative, an organization dedicated to calling attention to systemic racism, will hold its third annual Gala: A Night to Remember, on Saturday, August 26.
The event will be at 6 p.m. at the New College Institute (NCI) on Fayette Street.
Faye Holland, executive director of the initiative, said the incident occurred in 1949, when "seven African American men were executed for the accusation of raping a white woman. They were all executed in 1951. This was the largest mass execution in history." 
The men were Frank Hairston, Jr., Booker T. Millner, Howard Lee Hairston, James Luther Hairston, John Clabon Taylor, Frances DeSales Grayson, and Joe Henry Hampton.
Holland said in Virginia, only African American men were executed for rape.
"It had never been a white person executed for that," she said.
On August 31, 2021, then-governor Ralph Northam issued a pardon for the seven men. 
"Every year we have an annual gala to celebrate that" pardon, Holland said. "The whole process is to keep the Martinsville Seven in history books because up until recently, nothing had been said about this situation that occurred over 70 years ago."
Holland said the gala will also serve as a fundraiser for the organization, with proceeds going toward the seven scholarships named after the seven men. 
The initiative also plans to work toward establishing a center for social justice that will hopefully work with the victim witness protection program, hold forums and workshops, and other types of community engagement.
"We're done three Martinsville Seven exhibits, and they'll be displayed at the center," she said.
Besides celebrating the pardons, Holland said there will be presentations about the initiative and an update on its current activities. 
There will also be a talk by Danville-based genealogist Katrice Luck, a live band, DJ, and a catered dinner.
Holland said last year's gala attracted 96 people, and 111 attended the first gala.
"A lot of the family members attend. We have representatives from each of the seven families at the gala," she said.
Tickets are required to attend the gala and cost $50 each. Tickets will not be sold at the door. 
To purchase a ticket, call the initiative at (276) 806-3983 or (276) 226-4318 or via CashApp using $Martinsville7.
For more information, visit www.martinsville7initiative.org.