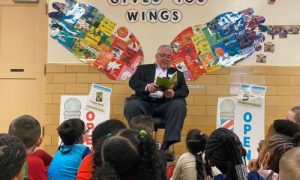 Carter Bank & Trust CEO Litz Van Dyke read to students on March 9 at Patrick Henry Elementary School as part of the school's Virginia Reads One Book celebration.
Van Dyke read two chapters of the book J.D. and the Great Barber Battle by J. Dillard. That same book is currently being read by elementary students across the state in other schools participating in the program. 
PHES' participation in Virginia Reads One Book is sponsored by Carter Bank & Trust, which provided copies of the book to every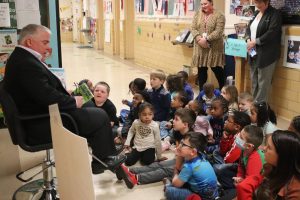 student at the school and even donated a barber chair for students to sit in for some quiet reading time. Several other Carter Bank employees have been visiting individual classes to read chapters of the book to students as well. 
"It was a pleasure to have Carter Bank & Trust President Litz Van Dyke read to students today at Patrick Henry," said PHES Principal Cameron Cooper. "The students were definitely engaged during his read-aloud times and our fifth graders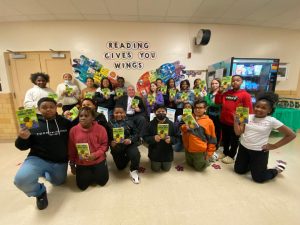 thanked him for the contribution made by CB&T to fund a copy of the book for each student. It was even more fun to have him read to students in the barber chair donated by
Carter Bank for the two weeks we are reading this book!"
Virginia Reads One Book is a States Read One Book program of Read to Them, a Virginia-based nonprofit promoting family literacy. For more information, visit www.readtothem.org.