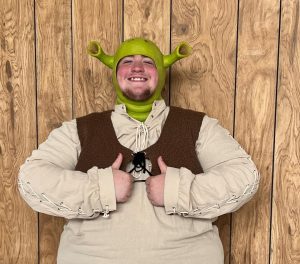 Martinsville High School senior, Logan Carter, is starring as Shrek in Martinsville City Public Schools' Performing Arts Academy's production of "Shrek The Musical Jr." Carter has been in five other productions at the high school, and this will be his final performance before he graduates. 
"There are a lot of expectations for the main character of Shrek. The role is so iconic, and you expect a certain caliber from the person that is portraying it. There's a lot more work you have to put into it and a lot more practice," Carter said of his role. 
He plans to pursue a career in the theatre after high school, he plans to attend college and major in performing arts. 
"It's one of the few things I'm passionate about," Carter said.
Patrick Henry Elementary School third-grade student Emery Taylor plays the role of Baby Bear. Taylor has been in three productions at Patrick & Henry Community College, but this represents her first role with the Performing Arts Academy.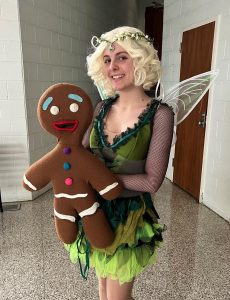 "It's a little different because I know everybody at the college, but this is fun meeting new people," Taylor said. "It's a lot of work but it's all going to be worth it." 
Taylor's love of singing and dancing along with a little encouragement got her started in performing arts. "Since I heard about the auditions, I was very, very excited," she said.
Kaira Womack is a ninth grader at Martinsville High School, and this is her second production with the school. Womack plays one of the three blind mice in the production. "I've always been shy about my singing, but my sister and my friend influenced me to try out," she said. Womack doesn't have a singing part in Shrek Jr., but she does have a dancing part. 
Sophomore Ava Grant plays Gingy and a sugar plum fairy. Her speaking parts are for Gingy, who is the Gingerbread Man in Shrek Jr.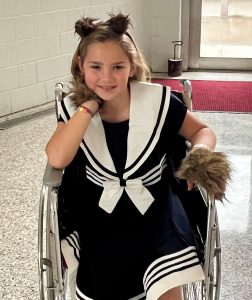 "This is my very first play, literally ever. I'm enjoying it a lot. Jyshir (Plunkett) is the Captain of the Guards, he told me about it and that I should do it. I saw how much he enjoyed it, and I heard it was Shrek and I was like, 'Oh my gosh, this is perfect,'" Grant said. 
Other cast members are Lilly Rorrer as Princess Fiona, Bridgette Brent as Teen Fiona, Adelyn Campbell as Young Fiona, Caesar Draper as Donkey, Kaya Gravely as Dragon, Max Rorrer as Lord Farquaad, Jyshir Plunkett as Captain of the Guards, Samson Ray as Big Bad Wolf, Josiah Porter as Pinocchio, Jeremiah Porter as Pig 1, Alex Butler as Pig 2, Nigel Cook as Pig 3, Zhedrick Capulong as Little Ogre, Kimori Dillard as Mama Ogre, Gavin Luther as Papa Ogre, Zoey Hannans as Storyteller 1, Azriel Carter as Storyteller 2, Archer Deatherage as Storyteller 3, Monica Watkins as Wicked Witch, Zion Perkins as Mama Bear, Azriel Carter as Papa Bear and Zhedrick Capulong as Dwarf.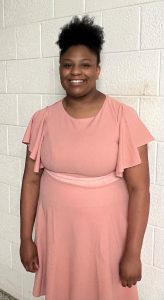 Members of the Ensemble are KeAndrius Beal, Zefrina Capulong, Kassidy Dodson, Jaidence Hairston, Zoe Jones, Aubrey Kirby, Riley Moore, JesMari Morales, Moriah Mose, KaVaugn Muse, and De'Coyia Smith.
The production staff includes Erica Becker, music director; Latiesha Fuller, stage manager; Shauna Hines, master builder; Sharon Millner, stage manager; and Karla Scales, director, and choreographer.
The show opened on Friday and will run tonight at 7 p.m., and 3 p.m. on Sunday at Martinsville High School Auditorium. Tickets can be purchased at the door for $10.