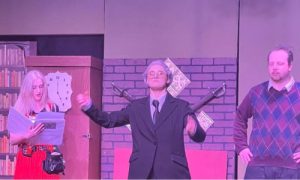 "The Play That Goes Wrong," technically is a play within a play in which the Cornley Polytechnic Drama Society presents their production of 'Murder at Haversham Manor.' Everything that could go wrong does go wrong in this production. The set is unfinished, but the play starts anyway and there is no time to complete it.
A murder takes place, but the corpse continues to move, and the cast must adjust as the mystery unfolds. The set starts to fall apart, props disappear, and the main characters have dangerous mishaps during production. The self-destructing set quickly starts to become a major villain as the company fights a variety of obstacles to get through the production.
Director Joanie McPeak was excited about the production. Originally the script for the play was brought to the production table in 2016. However, the rights for the production were not available yet. The following year they brought it back to the production table again. 
"Brian Dunn actually suggested that we do Peter Pan That Goes Wrong which is written by the same people. We discussed that and then we found out the rights were available, and we had the potential to perform this," said Director Joanie McPeak. "I wanted to do this one first. It's a great show," she said.
The cast members are Corey Thompson as Chris, Louis Norton as Johnathan, Zach McPeak as Robert, Zoe Kirk as Dennis, Briana Tatum as Sandra, Robbie Hendrix-Wirt as Max, Emma Hutchins as Annie, and Sarah Foley as Trevor.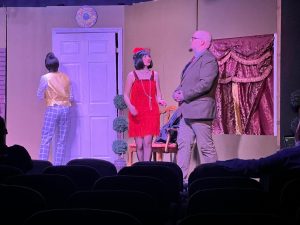 The play will run Sunday at 2 p.m. at Theatre Works Blackbox Theatre at 44 Franklin Street. Tickets are $15 online and can be purchased at https://www.twcp.net or at the door for each show.
TheatreWorks is also hosting an upcoming one-act festival for people who love to write and create. 
"It's just a 30-minute play with a simple stationary set. We are looking for a mix, maybe a good comedy, a good drama, or a dramedy. We want to represent a good variety," said Brian Dunn. 
To submit entries to the contest, send PDF format scripts to twcpproduction@gmail.com and include your name and contact information. Submissions are due by September 1. One submission is allowed per person, for a maximum of 30 minutes run time, single scene, and provide your own props/costumes or use what is available from BlackBox supplies.