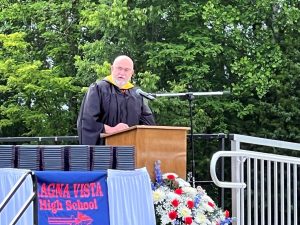 Magna Vista High School graduated 237 seniors at its recent commencement. 2023 Student Class President Eric Johnson Lane presided over the ceremony. The Magna Vista Choir sang the National Anthem and the Magna Vista JROTC presented colors prior to a speech by Madison Ashley titled, "Opening the Doorway." 
"When we cross that stage, we will be opening that door to a future with endless possibilities," Ashley said. "Beyond these walls, we'll consistently be faced with adversity, but don't back down from these obstacles. They are your opportunities for growth. As students, we gravitate towards familiarity, but today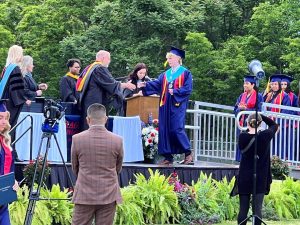 we will be stepping towards a completely unpredictable future," she said. 
Ashley reminisced of fond memories that she will miss after graduation, one being a snow day out of school, and concluded her speech with, "Today we celebrate a new beginning, a new lifestyle, new friends, new opportunities."
Alexis Garten also gave a speech titled "Man in the Mirror." 
"This is a moment in our lives we have been waiting on for the past four years. These past four years have shaped us into who we are today," Garten said. "Doing what you love while stepping outside of your comfort zone and being an influence to those around you is the best thing we can do to change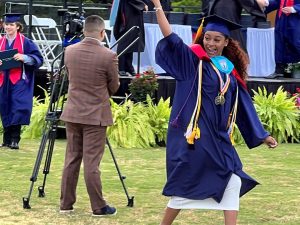 the world. Change starts small."
Garten encouraged her peers to change the world in college, in the military, in the workforce, and in whatever path they take by doing small things that impact those around them.
Magna Vista High School Principal Duane Whitaker left the students with some key advice in a speech that included humor.
"I have probably attended over 40 graduation ceremonies over the course of my life, I remember absolutely nothing the teachers said," Whitaker said, as laughter erupted from the crowd. "First piece of advice, wherever you go in life, always sit in the front row. It's the best view in the house.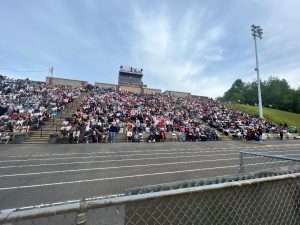 "Second piece of advice, whenever you get the chance to refer to yourself in the third person, seize that opportunity," he said. 
"You are important, and you will always be important. Wherever life takes you, you will be important to someone," Whitaker said. "If you ever forget that, pick up the phone and call Magna Vista High School because there is someone in this building that can remind you that you are important."
Magna Vista High School Class of 2023
Madison Christine Ashley, Petra Linda Balderas, Karli Nicole Barker, Hunter Jacob Barrow, Abbygale Paige Bender, Ian Alexander Betton, Nicholas Ian Bokman, Jaxon Thomas Britton, Anaya Sincere Brown, Hunter Ray Brown, Mallory Ann Burton, Emiliano Carrillo-Juarez, Katherine Emmaline Cecil, Faeryn Arianna Clifton, Claire Warner Coleman, LeAnn Renee Compton, Morgan Elizabeth Craig, Alyson Carolina Cuthbertson, Caroline Elizabeth Davis, Tanner Austin DeShazo, Amiya Taleah Dillard, Celia Raquel Dodson Gutierrez, Kevin Dong, Alyssa Shae Draper, Danielle Elizabeth Edwards, Diana Isabel Espinosa, Sarah Madison Finley, Kelsey Renee Flowers, Analuisa Frias Alvarez, Alteria Denise Gable, Cesar Isaac Garcia, Alexis Brooke Garten, Joerome Marquan Gravely, Jamina Jarnisha Hairston, Kyra Simone Hairston, Brandon Grant Hall, Joselinne Hernandez Romero, Nathan Lee Hodges, Nathan James Hopkins, Skylar Cheyenne Hopkins, Christina Paige Howell, Ashlen Graye Hudson, Kaylee Lila-Mae Hughes, Onaisha Marie Jamison, Caleb Charles Jenkins, Abigail Jimenez-Ramirez, Shawn Michael Jones Jr, Mallory Shannon Kaczor, Jacob Nathaniel Kallam, Olivia Shires Hankins Keller, Sophie Madison Kendall, JaMiya Sanaa King, Eric Johnson Lane, Austin Cole LaPrade, Jahzara Anaya Liverpool, Joshua David Luther, Caleb Michael Lynch, Emma LiuYuan Macaluso, Kailea Christian Martin, Zy'Adria Denasha Martin, Catherine de Rosset Maxwell, Grant Michael Mayes, Eliza Grace Miller, Christian James Millner, Kailei Ann Minter, Brittney Faith Mitchell, Abigail Grace Mosley, Abbie Grace Moxley, Cedejah Benea Myers, Jolette Navarro-Tamayo, Hanh Tuyet Nguyen, Zachary Gennaro Palumbo, Carlyna Loise Parks, Nathaniel W Pearson, Jada Nave Penn, Rickyah Carlea Penn, T'Mesha Mone Penn, Aaliyah Ariel Perez-Ramos, Thomas Lee Powell, Nala Kay Preston, Tanijuh Lashaye Preston, Bear Barry Carl Priddy, Clara Elizabeth Prillaman, Marissa Quintero Salinas, Alyssa Nicole Ramsey, Hannah Elizabeth Rankin, Kelsey Madeline Reece, Brandon Jermaine Reid, Dayton Conner Royster, Jennifer Ruiz, Audrey Grace Russell, Yulisa Salinas, Jada Marie Setliff, Olivia Ruth Shelor, Chloe Jeanette Smart, Mekhi Okeith Stockton, Summer McKenzie Stone, Zachary Cole Tinch, Kendra Renea Turner, Dua Umar, Noelia Valderrama, McKenzie Renee Vaught, Alondra Yazmin Vera-Carrillo, Katherine Grace Walsh, Andrew Christian Warren, Sidney Madai Wheeler, Alyssa Nicole Woods, Genesis Camille Adams, Luciana Grace Adkins, Hunter Wade Amos, Jonathan Daniel Andrews, Madison Brooke Barbour, Tyler Preston Barbour, Christian Andrew Tyree, Jordyn Nicole Beale, Jessica Donekia Blackwell, Braxton Anthony Boitnott, Ivan Carlos Bravo Perez, DeAndre Malik Brim, Noah Douglas Brumfield, Ebony Priscilla Bryan, Eveline Camberos Romero, Alexia Carrillo, Carlos Jahir Carrillo-Hernandez, Alden Blake Carter, Terry Demarcus Carty, Grayson Brock Cassell, Bobby Jerrod Claytor, Christopher Isaiah Compton, Lazodika Ilana Covington, Alexis Renee Crandall, Ethan Ozzy Crowder, Iviyan Teris Dandridge, Nicholas Edward Dearborn, Jasmine Diaz Trinidad, Mykaela Destiny Dillard, Tramaine Isaiah Freeman, Alicia Isabel Garcia, Angel Alexander Gil-Reyes, Matthew Wade Gilbert, Mekkayla DeSha Giles, Angelo Darien Gonzalez Rojas, Omartae Rashawn Gravely, Logan Blake Grindstaff, Andrew Giovanni Guerrero, Amaree Jerrell Hairston, Javin Lemar Hairston, Jontae Amonti Hairston, Samuel Dean Hairston, Takeybeairia Dellyiah Hairston, TraQuan Nicolas Hairston, Tyrian Lamont Hairston, Zion Jer'Kyrie Naz'Chay Hairston, Jayden Trey Handy, Natalie Renee Harbour, Jayden Noah Harper, Colin Matthew Havens, Daniel Vinson Hedrick, Matthew Brandon Hines, Ny'Kerion Va'Shaun Hodge, Marshall Logan Howard, Zachary Jacob Hundley, Adam Dylan Hurd, William Benson Hurd, Christian Michael Jamison, Jaiden Joseph Jennings, Maury Jimenez Aguilar, Shakira Ganay Johnson, Ke'yona Antionette Joyce, Ariana Chantel Kellam, Christal Audrey Kelly, Tynajah Desmona Kirby, Kolin Edward Kovack, Sherlin Lopez-Lopez, William Jackson Lowery, Nolbert Luviano-Bustos, Lisbeth Madriles Canales, Sierra Nicole Manns, Lauren Elise Victoria Marshall, Dazaria Jakeria Martin, Devin Michael Martin, James Edward Martin, McKlayne Lynn Martin, Patrick Nelson McCrickard, Alexander Roy McIntosh, Lauren Chea Meadows, Terrell Dashawn Medley, Maria Selena Mendoza Soto, Tamauriana Antyana Menefee, Isabella Marie Mickey, Logan Christopher Miller, Alivia Marie Millner, Luis Ernesto Montes Juarez, Landen Delane Moore, James Thomas Motley, Justin Gator Nance, Azaria LaFae Nelson, Ny'Sire Deandre Niblett, Nykki Shavon Norman, Brianna Ocampo-Suarez, Alexia Danielle Odberg, Gael Ortega, Gavin Lee Osborne, Cyera Lynn Patterson, Jasmyne Denise Penn, Ta'Laysia Niyona Penn, Emily Renay Perdue, Jaheim Katrell Phillips, Kamree Samonte Powell, Carlos Bonifacio Ramirez-Mendoza, Karma Nicole Red, Adam Charles Reed, Olivia Dawn Reeves, Madison Destinee Reid, Luis Manuel Reyes Lopez, Colby Tyler Richardson, David Alexander Romero-Reyes, Brianna Evon Scales, Keegan Charles Shelburne, Kayden Taylor Shreve, Donae Dean Solomon, Juan Jose Soto Raygoza, Zachariah Lane Staples, Mekel O'Keith Stockton, Tachina Lemisha Terry, Andrew Lane Turner, Riley Jefferson Via, Elizabeth Dawn Vires, Deshawn Aundra Watkins, Madison Paige Willard, Alexis Danielle Williams, Jeffrey Michael Williams, SaMya Anae Williams, Jade Mackenzie Wright, Deavion Ishae' Young, Marcus Xander Whitaker, Cameron Isaiah Joyce, Rebekah Dawn Rorrer, Hunter Edward Tinch,