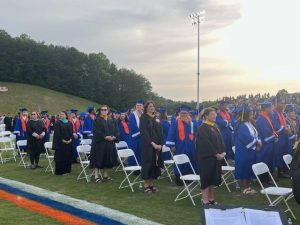 The 230 members of the Bassett High School (BHS) Class of 2023 graduated Friday, May 27.
While the past is a fabric that can never be rewoven, BHS Principal Tiffiny Gravely asked the graduates how they will thread the fabric of their future.
"Part of the fabric of the past was woven for you. You entered your freshman year here in 2019 thinking it was going to be a regular school year. Unexpectedly it ended abruptly on March 13 due to a global pandemic," she said.
Despite this, she said graduation is one of the biggest milestones of the class's lives.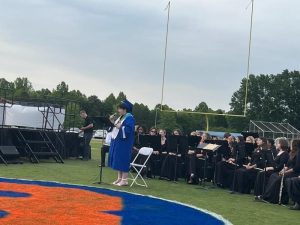 "You showed us you're capable of threading through some pretty dense fabric," she said.
Class President Trinity Rayne Gilbert said the graduating class began their high school career as a singular thread when they walked the daunting hallways of the school.
"Our thread felt frayed as we received chilling stares from upperclassmen, and we dreaded the next day of school. However, we continued to show up, and sewed the first patches of our handmade fabric," she said.
Gilbert said the class began to enjoy high school and joined the school experience before everything halted.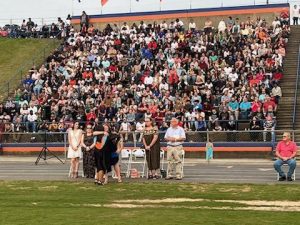 "The sewing machines halted, and the county announced that the rest of our first year was to be online. We entered unknown territory and sloppily finished mending the fabrics that we had carefully planned and designed," she said.
Gilbert said the class attempted to fix the imperfect stitches it wove the previous year during its sophomore year. 
During their junior year, "we rushed to do all the extracurricular activities, strengthening the stitches in our friendships. Then our senior year appeared," she said.
When the senior year began, Gilbert said the fabrics were almost fully mended, but it needed to experience some key moments – both good and bad.
"These bad moments shaped our fabric in ways we cannot imagine. Some of us lost friends and went through life-altering experiences. In these moments our fabric was changing and weaving in order to prepare us for the future," she said.
Now, standing at the end of their high school career, Gilbert said the fabric is nearly fully assembled into a unique quilt.
On this foundation, "our fabrics will forever change as we go onto our future endeavors … for our new lives," she said. "Seniors, take these customized quilts and implement them into your journeys. Use your experiences to help you in the future and continue to sew your everchanging quilt."
Class vice-president Asjah Janay Taylor said graduation marked the end to the long 13-14 years it took to get there.
"We worked hard to get to this point, but we didn't do it by ourselves. We owe a huge step of gratitude to our teachers, administrators, coaches, staff, counselors, and parents for supporting us in more ways than it's possible to count, and for unselfishly sharing their time, knowledge, talents, and with us," she said, adding that is a gift the class won't receive again.
"So, cherish it. We've already taken the first step by making it to this ceremony today. Now it's time to take the next steps in the journey that is our lives," she said.
Class of 2023 graduate and football team member Angel David Bracamontes Martinez said spoke about the threads of the graduates' futures.
"Today is a day of celebration, accomplishment, and a day of gratitude. We are here today because of the hard work, dedication, and support of so many people," he said.
Martinez said that has made a lot of differences in many students lives, and "are the threads that kept us from unraveling, stitched us together, and embroidered our lives with dreams and opportunities. These are the threads of our future."
Gravely said 60 of the graduates earned an Advanced Diploma with 20 graduates already earning an associate degree.
"For your high-achieving academics, hours of community service, and extracurricular activities, 23 of you are graduates of distinction," she said.
Thirty-six graduates have made a grade point average (GPA) of 3.8 or higher, thus earning the accolade of honor graduates.
Gravely said the class also earned nearly $2.2 million in scholarships and financial aid.
She also presented an honorary diploma to the family of Angelina June Morton Cobbler.
Jolie Elizabeth Bowyer gave the choral tribute by singing "Slipping Through My Fingers."
The class's gift to the school and future classes was a laser printer.
The class motto was, "The Future is a hundred thousand threads, but the past is a fabric that can never be rewoven" by Orson Scott Card. The class song was Macklemore's 2017 song, "Good Old Days" and the school colors are royal blue and orange.
Bassett High School Class of 2023
Leila Alise Aaron, Jairo Antwone Aburto-Villanueva, Alex Joan Arellano-Ortiz, Timothy James Arey, Juliano Xavier Bartnik-Winton, Addison Olivia Belongia, Kyrsten Blayne Boardwine, Billy Joe Boaz Jr, Kirsten Belle Booth, Adreiana Nicole Bowers, Jolie Elizabeth Bowyer, Angel David Bracamontes Martinez, Jamie Lee Brittingham, Christian Gage Brooks, Camden Henley Bryant, Aaron Chase Byrd, Caitlyn McKinley Cannaday, Zachary Tyler Cannon, Calista Angel Carson, Sean Nasir Carter, Sumner Anne Cassell, Victoria Grace Castaneda, Emerson Fabricio Castellanos Lendos, Yessica Natalia Castro Martinez, Christopher Wayne Chapman, Diana Rose Chavez Vazquez, Michael Lee Clark, Katelyn Maria Clark-Agee, Lyndsey Nacole Clark-Agee, ZyMarius Dontrae Claybrooks, Courtney Dawn Cline, Alijah Jaleel Cobb, Coleman Edward Compton, Lashanda Nicole Conner, Jacquelyn Coronilla-Ortega, Janet Lorena Cortes, Yalissa Evelyn Cortes, Valerie Brooke Crouch, Jose Angel Cruz-Gabriel, Aleli Cruz-Gabriel, Joushua David Cundiff, Audrie Louise Dalton, Russell Dwayne Daniel Jr., Logan Hunter Davis, Lane Garrett Deatherage, Shyanne Eliza DeHart, Victoria Jade DeHart, Ruth Elena Diaz Alvarez, Collin Nicholas Dickerson' MaKayla Brooke Dillon, Ashley Dominguez-Bravo, Shawn Michael Doyle, Holden Zeth Draper, Ruben David Duran, Bailey Michelle Dyer, Hannah Grace Eanes, Daniel Rex Earnhardt, Brendon Samuel Easley, Kadence Belle Easter, Clayton Lee Edwards, Hunter Michael Edwards, Riley Mathew Evans, Callie Ruth Ferguson, Casey Paul Ferguson, Austin Matthew Fields, Diamonique Je'Nelle Finney, Gabriele Finotto, Benjamin Yitzak Flores, Logan John Fontaine, Naquan Qwali Foreman, Shenyiah Shenise Fuller, Jordan Lynn Garcia, Amy May George, Kaitlyn Dawn George, Jacob William Gilbert, Trinity Rayne Gilbert, Emily Grace Gilley, Brandin Lee Gillispie, Amanda Grace Goad, Hunter Davis Goad, Nicholas Jace Wilson Goad, Heidi Naomi Gomez-Telles, Joshua Bradley Graham, Billi Dean Grindstaff, Sarah Alexandra Hagood, Aleisha Danielle Hagwood, Cierra Chanel Hagwood, Ja'Ricous Li'Jesse Hairston, Kimora Ny'Ree Hairston, LaVontae Delijah Hairston, Ta'Niya Lanae Hairston, Kylee DeShawn Haith, Landon Neil Harbour, Michael Parker Hardy, Alexis Leal Hernandez, Diana Hernandez-Martinez, Angelina Elizabeth Hester, Jasmine Skyler Hiatt, Emma Jayden Hobbs, Destiny Noel Hodges, Kelcey LeeAnn Howell, De'londrea Renay Hunt, Tycoria Passionique Jamison, Jonathan Axel Jimenez-Chavez, Kenya Ann Jimenez, Cadynce Lavon Jones, Addison Jade Kaylor, Noah Thomas Keeler, David Jordan Keith, Zachary Lee Kendrick, Caitlyn Marie Kiser, Anthony Lee Lawson, Jayvion Tijuan Leftwich, Nalaaya Gabrielle Leyva, Marissa Nichole Lipscomb, Nathaniel Conner Littles, Joanna Irett Lopez Garcia, Oscar Daniel Lopez-Lopez, Hannah Nichole Marlowe, AnDre' Demetris Martin, Austin Tylar Martin, Bethanie Faith Martin, Camryn Alexis Martin, Cayley Corinne Martin, Khyrra Michelle Martin, Natoria La'Shae Martin, Alexis Martinez-Hernandez, Hector Oracio Maya, Harley Nicole McAdams, Savannah Holly McBride, Kaitlynn Nicole McCoy, Landon Shaun McCraw, Isaac Marvin McKissick, Olivia Elaine McNebb, Jenna Nicole Meadors, Elijah Bishop Meeks, Michael Mendoza Ramirez, Theodore Christian Mills, Tanya Alena Morales, Shane Michael Murdock, Amanda Kathryn Nance, Dashawn Desha Nichting, Zachariah David Nylander, Madysen Grayce Parks, Evan Hope Parnell, Caleb Sage Payne, Bryan Matthew Pearson, Emily Nicole Price, Nasir Osric Price, Addison Lynn Pruitt, Braydon Alexander Pruitt, Cesar Alfredo Quezada Correa, Timothy Peyton Rakes, Joana Velen Ramirez, Javier Ramirez Borja, Crystal Ramos-Machuca, Gracie LeAnn Ratcliff, Taylor Lane Reed, Zeariah Renea Reeves, Eva Itzel Reyes-Rosas, Cody Wayne Rivers, Saylor Elizabeth Robertson, Skyler Lee Robertson, Stephanie Nicole Rodriguez, Kevin Miguel Rodriguez Rosas, Diane Suley Roldan Zavala, Madison Nicole Ross, Samara Elyse Rumley, Jacob LaShawn Ryan, Johnathan Kendall Ryan, Jacob Saligan-Medel, Marco Antonio Sanchez-Eure, Maira Emily Sanchez-Gonzalez, Jose Antonio Sanchez-Gutierrez, Christian Sarabia, Amiya J'nae Scott, Richard Davis Scott, Omahd Rashaun Shareef, William Lawrence Shilling IV, Ayden Rafael Kakouris-Shipton, Logan Ryan Shockley, Samantha Rae Shough, Aaliyah Jolie Smith, William Dudley Smith III, Hailey Madison Spencer, Hunter Scott Spencer, Kayin Shanelle Spencer, Samuel Talib-Kweli Stanley, Elijah Za'Kee Stokes, Logan Marie Surber, Jaylen O'Neil Tate, Asjah Janay Taylor, Kamari Naseem Teel, Corey Alexander Thomas, Ja'Qwan Vershaun Thomas, Breahna Storm Turner, Seth Lee, Douglas Turner, Clarisa Mae Tye, Akyiah Tyleigh Valentine, Angela Vasquez-Torres, Diana Michelle Velasquez-Nolasco, Aurionna Michelle Viars, Emma Grace Warren, Charlotte Ann Wells, Emilee Faith White, Gavin Scott Whitlow, Trace Patrick Wiggington, Heather Leann Wild, Bethany Inez Wilson, Faith Autumn Wilson, Marcus James Wiltz Jr, Haley Renna Witcher, Kayla Brynn Wood, Emily Gail Wyatt, Joseph Harris Wynn, Jonathan Kenneth-Allen Yarger, Cicely Chanel Young, Ethan Michael Zangari, Evan Anthony Zangari, Darrion Keontae Ziglar, Summer Nicole Zuniga