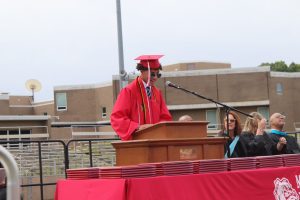 Martinsville High School Principal Dr. Aji Dixon issued an open invitation to the Class of 2023 at the graduation ceremony Saturday.
"We love you. You're always ours, no matter what," Dixon told the graduates. "You can always come back to us."
Despite gray skies and a chilly wind, spirits were high as families, friends, and school faculty came together to celebrate the culmination of the class's hard work and dedication.
Dixon welcomed the graduates and guests, including all members of the city school board, several members of Martinsville City Council, including Mayor LC Jones, Vice Mayor Aaron Rawls, and school administrators.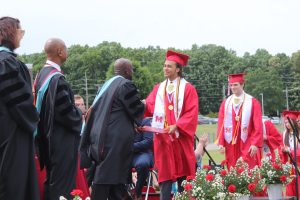 Following a performance from the MHS Gospel Choir, Superintendent Dr. Zeb Talley approached the podium to deliver his remarks. Talley told students, "If you dream it, you can be it and you can have it… You deserve an opportunity to be great. You are great… You're never going to be second-class to anybody. You came from Martinsville." He urged the graduates to hold on to their dreams and their visions for the future.
Senior class president Papion Jolie Ritenour Shelton then addressed her classmates. 
"Though our paths may vary, and we face different challenges, let us not forget the unbreakable bond that ties us together as Bulldogs," she said. "Stay connected, support one another, and celebrate each other's victories as your own." She reminded her fellow graduates that "anything is possible as long as you believe it is."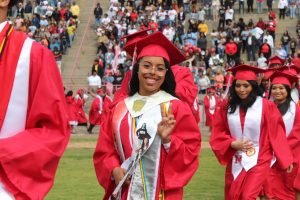 Charles Edwards, the senior representative, also shared remarks with his fellow students. He reflected on the challenges of being a student during the pandemic and reminded the class that "we must continue fighting to succeed. Make it to the top … Though our paths may differ, we have one common goal, and that common goal is success." 
Of the 116 graduates of the Class of 2023, nearly half (54 students) graduated with an advanced studies diploma. Twenty-three graduated with the Governor's Seal and 25 graduated with the Board of Education Seal. Most students (114) graduated with the Career and Technical Education (CTE) Seal, 17 earned the Seal for Excellence in Civics Education, and 6 graduated with the Seal of Biliteracy. Eighteen graduates are members of the National Honor Society, 16 belong to the National Beta Club, and 21 are members of the National Technical Honor Society. 
The Martinsville High School graduates of 2023 are:
Gage Thomas Aldridge
Jimena Jaqueline Amaya Romero
Mirna Yamileth Amaya Romero
Marcaisa Jenee Becker
KaDen Ellis Biggs
Tanaysia Janae Blackstock
Demitri Keyvon Blackwell
Jalik Kayvon Blackwell
Katelin Elizabeth Boyd
Jakya Leonia Bradley
Daniel Aaron Braley Jr.
Marcel Tyree Breedlove Jr.
Jakel Jerome Brim
Takiya Janee Brim
Kendaysha Loretta Briscoe
Samya Pamela Brown
Alexander Reese Butler
Hayden Elise Calfee
Janyasia Nykeria Carter
Logan Gabriel Carter
Mikiyah Kimoria Carter
Montrell Kevon Wonju Clements
NiJe'l Malik Cook
Ylana-Janae Cynthia Craig
Gabriel Marcus Lee Daughtry
Carolyn Leandra Davis
Nicholas Christopher DeJesus
Marcos Enrique Delcid Cruz
Rayshawn Lamond Dickerson Jr.
Christian Alexander Scott Eames
Charles McKinley Edwards
Jaliyah Ny'asia Eggleston
Joshua Voshon Eggleston
Samuel Williams Elliott
Niseer Devontae Ellis
Andy Tobias Espana Garcia
Marissa Shauntel Espinosa
Steffon Quarmaine Evans Jr.
James Demetrius Farris Jr.
Yeilyanis Majica Figueroa
Jayden Levon Fitzgerald
Nadia Jazmin Flores
Niceia Fretwell
Zane Mills Gardner
Matthew Gabriel Gilbert
Kendra Jolene Gill
Torrey Landis Gravely Jr.
Jakiyah Carmelle Gravely
Janiya Tyjae Gravely
Makinley O Bryan Gravely
Pamela Pagie Haddock
Hannah Divine Hairston
Nasia Te Quarius Hairston
Trenati Cherkara Hairston
Katherine Marie Hall
Fantasia Monique Harper
Vanessa Bethsaida Hernandez Aleman
Betzaida Hernandez Mata
Jacob Dylan Hodge
Ronnie Dwight Jackson Jr.
Camryn Savannah James
Lizbeth Jaramillo Mata
Christian Elias Jones
Jahmal Eilijah Jones
Usman Amer Khan
Randisha Angieonna Leftwich
Kimberly Leticia Lopez Valentin
Ludwin Isai Lopez-Chavez
Lesli Marchorro Macias
Amya Deshay Martin
Chavis Isiaih Martin
Izayveous Labrian Martin
Natalia Janae Martin
Sofia Marie Mateos
Devin Gabriel Mendoza
Allanah Monique Milton
Azahriauna Tamiracle Mitchell
Bryan Jayshon Mitchell
Javion Tyshae Mitchell
Sa'Nyia Sade Mobley
Eyad Abdelnaser Mohamed
Amanda Marie Mosser
Kydreiona Myesha Moyer
Faith Elena Munoz
Joseph Hunter Nguyen
Jabin Rashad Niblett
RG Vincent Olea
Ashlynn McKenzie Patten
Christian Emilio Penn
Sanira Lanise Perkins
Myia Shante Pettie
Jada Marshae Preston
Ciara Monique Ramey
Kimberly Azeneth Ramirez-Santiago
Frank Ray IV
Tristan Jessie Richardson
Papion Jolie Ritenour Shelton
Kristofer Kaydon Joseph Roberson
Aysha Sonay Robles
Manuel Jose Rodriguez Perez
Anthony Obeth Rodriguez
Bryan Lee Romero
Tiara Shambre Scales
Victor Sifuentes
Adrienne Kelis Smith
KeAundre Oshawn Smith
Kayla Marie Solomon
Jaevion Pierre Stevenson
Deonna Nichelle Street
Lamauri Lee Thompson
Michael Deon Vaughan
Christopher Demond Wade Jr
Samantha Reese Wall
Amarius Devon Williams
Ashanti Lania Wilson
Dreshawn Darrell Young