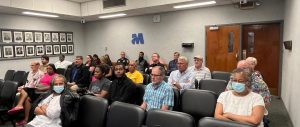 Members of Martinsville City Council presented a key to the city to Martinsville City Manager Leon Towarnicki for his 41 years of service to the city and its residents.
At the July 25 meeting, Councilman Kathy Lawson read a resolution detailing his career, which began in 1982 when Towarnicki served as the city's engineer. In 1985, he was named the director of public works, and in 2011, became the interim city manager. 
About two years later, on March 26, 2013, Towarnicki became the city manager. He is stepping down on July 31.
"Throughout his entire career, Leon has consistently served the city and its citizens with an unerring sense of genuine duty, dedication, and compassion. Whereas Leon has for over four decades devoted himself to the steady improvement of the quality of life in Martinsville and has consistently been a gentle and devoted leader," she read.
Lawson said Towarnicki has served a succession of city councils with calm, well-reserved, and ordered advice on a wide range of issues, provided advice on challenging city budgets and uninterrupted service to the public during the COVID-19 pandemic.
"While Leon was city manager the City of Martinsville undertook several major projects with Henry County, the Commonwealth of Virginia, the Harvest Foundation, and the Virginia Tobacco Commission to create a climate for business and economic growth," she said.
During his tenure, Lawson said Towarnicki has been devoted to the improvement of the Martinsville-Henry County region. He was awarded the 2016 Fred Herring Award by the Martinsville-Henry County Chamber of Commerce.
Several others also spoke at the meeting.
Former city councilman Chad Martin said, "When I first met him, serving as vice-mayor, there was something that he would do that I really just did not like. I would ask a question and he would go into a bright engagement of the history of the situation" to provide context, he said.
Martin said that was something he didn't understand and appreciate until later because the information helped him understand the situation and the gravity of potential decisions.
Towarnicki, Martin said, is never up or down, or right or left.
"He is the epitome of the phrase 'cooler heads prevail,'" he said.
Former mayor and council member Gene Teague said when he thought about Towarnicki, one of the first words that came to mind was professional.
"It's a professional job he did and continues to do and will continue to do. I know back in 2012 when we hired Leon, we had to talk him into putting in for the job, and I don't think he thought he could do it," Teague said. However, Towarnicki has "done an outstanding job and I'm glad we talked him into it." 
Teague said Towarnicki is 'a get it done kind of guy,' and noted that throughout his tenure, Towarnicki has always been focused on getting everything done.
"When you think about all the projects across the city over the past 41 years, Leon's had a hand in almost all of those," Teague said, adding that Towarnicki is hardworking, respected amongst all the councils he's worked with, and state officials. He is solution-oriented, even-tempered, and wise.
Danny Turner, former city mayor and councilman for 14 years, said he enjoyed having Towarnicki there during his tenure to answer questions and assist him.
"He keeps you on the straight and narrow," he said.
Another former council member Jennifer Bowles said throughout his tenure with the city, Towarnicki has exemplified the true spirit of a public servant.
"Your unwavering commitment to Martinsville and tireless efforts to have a legacy that will shine on throughout time. From the start of your service to this very moment you have led with integrity, professionalism, wisdom, and a genuine passion for making this city a better place," she said.
In other matters, the council:
*Approved the July 11 meeting minutes.
*Approved a resolution to dissolve the Southern Virginia Recreation Facilities Authority. The Henry County Board of Supervisors also approved a similar resolution, paving the way for the Smith River Sports Complex to become part of the Henry County Parks & Recreation Department.
*Heard an update on the city's Industrial Development Authority.
*Allocated $720,000 in American Rescue Plan Act (ARPA) funds for housing, branding, planning, and other uses.
*Approved the consent agenda.
*Heard an update from the Emergency Housing & Community Support Commission, which evaluated six properties to potentially house a warming shelter include the Salvation Army, the former Harmony Hall, and the former site of the Community Storehouse. Locations excluded from the list include the top floor of Piedmont Community Services (PCS), the former Catholic Church on Church Street, and the former Museum of Natural History building. Negotiations are currently underway with the Salvation Army.
*Heard from Rico Johnson, who owns the Corner Kitchen, which is currently located in the county. Johnson said he plans to relocate his business to Uptown Martinsville.
*Heard from Bowles, who noted issues on Forest and Askin streets, including cones in the road, trash, and trees. She also asked the council to provide a written response to her May 25 email.
*Heard from Tom Sally, who was representing the Warming Center. Sally thanked the council and the commission for the work each has done in the bid to address homelessness. 
*Heard from Patrick H. Wright, who expressed concerns about the absence of lime sherbet on store shelves, and encouraged those who enjoy the treat to write companies and businesses to try and get the shelves restocked. 
When asked about lime sherbet, Mayor LC Jones said, "I think it sounds good."