The Virginia Technology and Engineering Education Association (VTEEA) recognized Dr. Susheela Shanta, the Coordinator of Academic Programs focusing on STEM education at the New College Institute (NCI) in Martinsville, with the prestigious Presidential Citation Award. This distinguished accolade was presented to Dr. Shanta by Amy Sabarre, President of VTEEA, during the Annual Conference held in Hampton, Virginia, on July 17-20.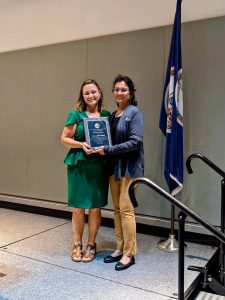 The Presidential Citation Award is bestowed upon individuals who have demonstrated exceptional leadership and dedicated service in support of technology and engineering education, across the Commonwealth of Virginia. Dr. Shanta's outstanding contributions to the field and her unwavering commitment to fostering STEM education for all students made her a standout choice for this esteemed recognition.
Amy Sabarre, while presenting the award, shared heartwarming words about Dr. Shanta's remarkable journey and her profound impact on STEM education, "This next award is pretty special to me. This is called the Presidential Citation Award, and it's my choice. This next awardee was an engineer in her past life, and she also did urban development. She taught as an engineering teacher in Roanoke, Virginia, and at one of the Governor's STEM academies. She received her doctorate from Virginia Tech in integrative STEM education and is now the Coordinator of Academic Programs that focus on STEM education at New College Institute in my hometown, Martinsville, Virginia. Susheela and I work on the Governor's STEM Advisory Board together. We both were appointed. She also served on writing the performance metrics for the Advancing Excellence in Engineering Education, and we worked together in that project. She is extremely knowledgeable, hardworking, kind, and she advocates for STEM education for all students. Most recently, she is working to create a state STEM ecosystem in the Martinsville area. It is my pleasure and honor to present this Presidential Citation to Susheela Shanta."
Dr. Shanta, upon receiving the award, expressed her gratitude and shared her perspective on her career and dedication to education, remarked, "I have always been fortunate to have had an opportunity in all stages of my career over 35 years to be able to make a living doing what is my passion: a holistic approach to community development. I believe that every individual (child or adult) needs to be able to access education that will prepare them for their future, and I believe as educators we are all trying to do that. I am truly surprised by this award today and am humbled by this acknowledgment and appreciation by my peers. Thank you!"
In addition to being honored with the Presidential Citation Award, Dr. Shanta also showcased her expertise at the conference by presenting on the topic of "STEM Ecosystems: Fostering STEM Literacy for All and Preparing the Next Generation of Innovators." Her involvement in the conference further highlights her dedication to advancing STEM education and promoting a holistic approach to community development.
Dr. Shanta's exceptional contributions to the field of technology and engineering education have not only positively impacted her local community but have also inspired educators and students across the Commonwealth of Virginia.
NCI serves both Henry and Patrick counties.