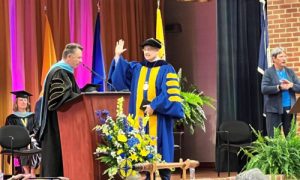 Dr. Greg Hodges was officially inaugurated as president of Patrick & Henry Community College (P&HCC) on Friday. Hodges serves as the fourth president of the institution. 
Dr. David Doré, Chancellor of the Virginia Community College System, conducted the ceremony with Hodges' family, friends, and colleagues in attendance. 
"What an ideal choice for president," Doré said of Hodges. 
Carlisle Head of School Gracie Agnew served as the keynote speaker for the ceremony. Agnew is one of Hodges' former teachers.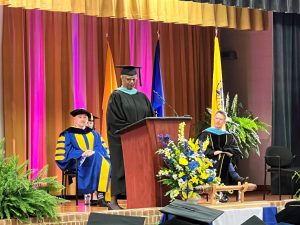 "When I first encountered Greg Hodges, I would have described him as zealous, inspired, driven, and passionate about learning," Agnew said. 
According to Agnew, Hodges set a goal to be Valedictorian of his graduating class at Drewry Mason High School and achieved that goal. He credited Agnew for teaching him more about himself, life, and the life-changing power of knowledge than any textbook during his valedictory speech. 
Agnew described Hodges as someone who had an unquenchable thirst for learning.
"Greg came into my classroom poised and ready to learn," Agnew said of Hodges and praised him as someone who has been preparing himself to take on the role of president at P&HCC for years.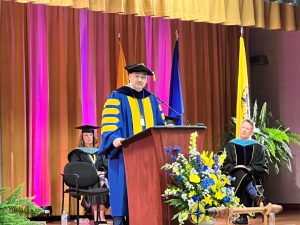 Hodges began his career at P&HCC as an adjunct faculty member before transitioning to a full-time faculty member in the field of early childhood education. He has previously served as the Vice President of Academic and Student Success Services, as well as the Vice President of Institutional Advancement, Effectiveness, and Campus Life, and Executive Director of the P&HCC Foundation. Hodges also previously held several positions, including Dean of Academic Success and College Transfer, the Dean of Developmental Education and Transitional Programs, the Assistant Dean of Arts, Science, and Business Technology, as well as the Coordinator of P&HCC's Quality Enhancement Plan (QEP) for SACSCOC reaccreditation.
Before his career in higher education, Hodges was an elementary school teacher. He holds a Bachelor of Arts in Education and Theater & Speech from The College of William and Mary, a Master of Arts in Biblical Studies from Bethany Theological Seminary, a Master of Arts in Educational Leadership and Supervision from the University of Phoenix, and a Doctorate in Educational Leadership and Administration for Higher Education from Trident University. Additionally, Hodges also serves as the senior pastor of Amazing Grace Baptist Church in Stanleytown, Virginia.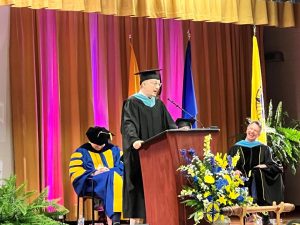 "Is it the honor of my lifetime to serve as the fourth president of Patrick and Henry Community College," said Hodges. "I believe what makes our college so special comes down to three simple things: our purpose, our people, and our performance."
Hodges, who is a first-generation college student, spoke of providing hope to students as being a key component in P&HCC's purpose and touts the people of P&HCC as changing the lives of the students. 
"A review of our institution's history reveals that Patrick & Henry enjoys a rich reputation, locally and nationally," Hodges said of the community college's performance.
Hodges' son, James Hodges, said his father "has dedicated his life to being a man who will carry the torch of opportunity and give light to as many souls as he can."
As the ceremony ended, James Hodges added his father "did it."