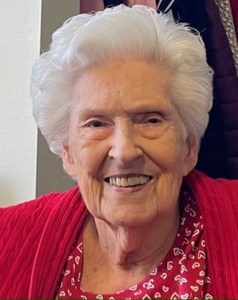 Geraldine Gusler Lawless, age 97, passed away September 1, 2023.  Born to the late Walter Bunyon Gusler and late Eva Agee Gusler, she spent her childhood and teenage years in the Woolwine area of Patrick County before moving to Collinsville, Virginia.
She graduated from Stuart High School and was a member of Fieldale United Methodist Church.  Her work career included employment with Fieldcrest Mills, Appalachian Power Company, and 1st National Bank/Crestar Bank.
She was preceded in death by her husband, Ralph Lawless; sister, Edith Gusler Jones; and brother, Leon B. Gusler.
Surviving are her son, Ralph Michael Lawless (Debbie); daughter, Elizabeth "Beth" Lawless-Coale (Donny); sister, Evadell Gusler Rogers; and numerous nieces and nephews.
A graveside service was held Thursday, September 7, at 11:00 a.m. at Sycamore Baptist Church cemetery in Woolwine.  The family requests memorial donations be made to Fieldale United Methodist Church, P.O. Box 218, Fieldale, VA 24089, or a charity of choice.
Collins Funeral Home in Bassett, Va. is in charge of arrangements for the Lawless family.