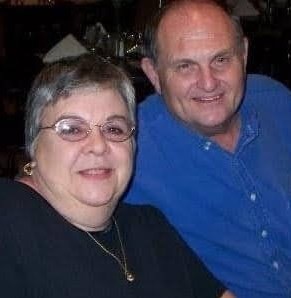 Russell Edward Haley, age 75, of Martinsville, Virginia passed away on Friday, September 1, 2023.
He had a lot of identifiers over the years.  Russell. Badge # 116. Dad. Pappy. And, most enduringly and inexplicably, Pete. No matter what you called him, you could always call him a friend. It was a common occurrence to be out with him in Martinsville and hear someone call out a greeting to him. When you asked who the person was, Dad would say "Oh I locked him up years ago." That was my dad. He passed away on Friday, September 1.
Pete Haley was born in 1947 in Martinsville, then proceeded to live all 75 (almost 76) years of his life within a few hundred feet of his childhood home. After a few forays into other work he found his calling as a police officer for Martinsville PD, serving for over 20 years and retiring as a patrol sergeant. But the PD wasn't just a career, it also provided the introduction to the love of his life, Martha. She passed in 2020 and he had been patiently waiting ever since to see her again. What a joyous reunion that was.
He is survived by his son, Jonathan, his daughter-in-law Mandy, and the two joys of his life: grandsons Nino and Drew. He is also survived by his brother, Wilbur Haley, Jr. (Audrey), and sister Robin Nickerson (Frank). He was preceded in death by his parents, Wilbur, Sr., and Doris, and his beloved wife Martha.
Services were held at Chatham Heights Baptist Church on Tuesday, September 5. Visitation started at 10 am and was followed by the memorial service at 11. In lieu of flowers, please consider a donation to Chatham Heights Baptist Church.
McKee-Stone Funeral Home, Martinsville, Va. served the family.