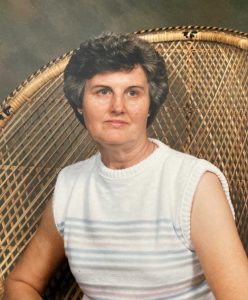 June Elizabeth Burnette, Age 90 of Ridgeway, VA passed away on Monday, September 4, 2023, at her residence after a decline in health. Mrs. Burnette was born on June 19, 1933, in Carroll County, VA to the late Oscar Edwards and the late Beatrice Bowman Edwards Goad.
In addition to her parents she was predeceased by her husband, Lindell (L.E.) Burnette; one sister, Dorothy Lawson; brothers, Leonard, Ray, Walter, Berle and Guy Edwards.
Mrs. Burnette is survived by her son, Barry Burnette (Sandy); grandchildren, Travis Burnette (Hailey), Allison Burnette and Bailey Burnette; brothers, Wayne and Glen Edwards; several nieces and nephews.
She was retired from Hardee's Restaurant.
A graveside service was held at 10:00 am Friday, September 8, 2023, at Roselawn Burial Park.
In lieu of flowers, please donate to the Ridgeway Rescue Squad, P.O. Box 611, Ridgeway, VA 24148.
The family extends their sincere appreciation to Dr. Mahoney, Lisa Morrison and Mountain Valley Hospice for the care and attention they provided to Mrs. Burnette
McKee-Stone Funeral Home, Martinsville, Va. served the family.
To express condolences online, please visit www.collinsmckeestonemartinsville.com.