The Gene Haas Foundation (GHF) awarded an $18,000 grant to Patrick & Henry Community College to support scholarships. The scholarships will be awarded to students who are currently enrolled or will be enrolling in a CNC Technology training or CNC machining-based engineering program and to support student participation in SkillsUSA's CNC competitions.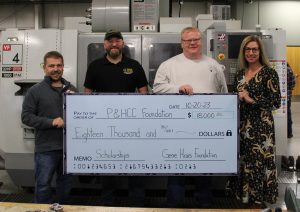 P&HCC offers multiple training programs that teach CNC machine technology and/or engineering. P&HCC's programs are designed to prepare graduates for immediate employment within advanced manufacturing including careers in motorsports, engineering technologies, advanced technology and industrial positions, and other manufacturing related positions. P&HCC is proud to prepare students for work in a high-demand, high wage field to meet the growing needs of employer partners.
"The Gene Haas Grant gives students an opportunity to excel in the Precision Machine Program by providing scholarships to students to assist them in completing our programs ultimately earning them Career Studies Certificates in Machining Technician (manual machining) and CNC Operator/Programmer. These skill sets are vital to support our region in the national mission to bring manufacturing back to the US from overseas. These manufacturing jobs are in high demand, pay well, and are constantly evolving to meet the needs of local and regional manufacturers. I am very thankful to the Gene Haas Foundation for supporting our students here at P&HCC," said Precision Machining instructor Justin Durden.
GHF's primary goal is to build skills in the machining industry by providing scholarships for CNC machine technology students also to provide students with the experience of collaboration with a team by competing in a competition that highlights design, engineering and manufacturing with CNC machined parts as a primary component. 
Motorsports instructor Talmage Thomas said, "Gene Haas Foundation provides financial assistance for students so that they can apply to repair cars and have gas money for transportation. The grant's support for buying basic tools needed to pursue careers in motorsports manufacturing is critical for our students."