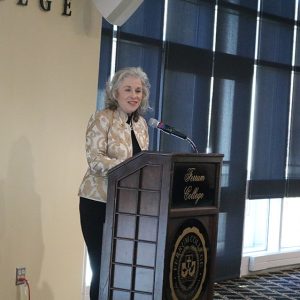 Ferrum College president Dr. Mirta Martin hosted a press conference and all campus meeting last week to announce a $10,000 reduction in undergraduate tuition for Fall 2024. Following the launch of the Panther Promise of free tuition to qualifying Virginia students in April, the reduction is a natural next step in the College's commitment to accessible and affordable higher education.
In her remarks at the press conference, Martin said "Today, we are here to yet again affirm our identity as the College of Opportunity by announcing a $10,000 reduction in our tuition rates for fall 2024."
"Additionally, we are excited to offer a $500 institutional Persistence Grant to all returning Juniors and Seniors in recognition of their commitment to continuing their academic journey at Ferrum College," she continued.
"Not only will 99% of Ferrum College students continue to receive institutional aid, the Panther Promise, the Ferrum Promise and the Battler's Promise will continue to be offered to qualifying students in the Commonwealth of Virginia and beyond.
"We know this decrease in tuition will expand opportunities to incoming and returning students seeking an excellent education in an inclusive, value-based environment where every individual is a cherished member of our Ferrum family," Martin said.
"Ladies and Gentlemen… Ferrum College is alive and well and open for business and ready to welcome home the next generation of leaders. Come join us!"
Ferrum College will welcome the first members of the Class of 2028, the first freshmen to benefit from the $10,000 tuition reduction, this Saturday, November 4th at the fall Black and Gold Open House. The College reminds all students and their families that the FASFA form will be available beginning December 1 and is the first step in applying for financial aid for Fall 2024. For more information about Cost and Aid at Ferrum College, visit: https://www.ferrum.edu/admission/aid-affordability/