Wayne Davis won every precinct in his bid for Henry County Sheriff. He won the most votes overall among candidates in races with opposition, garnering 73.86 percent of the vote, according to unofficial results.
In his contest against Del Mills, Davis picked up 9,971 votes to the 3,495, or 25.89 percent, cast for his opponent.
At Bassett #2, Davis received 60.87 percent to Mills' 38.46 percent. The results were similar in Gunville, where Davis won 62.23 percent to 37.44 percent for Mills.
At Scott's Tanyard, Fieldale, and Horsepasture #1, Davis received 65.67 percent, 75 percent, and 78.48 percent of the votes, respectively, with Mills picking up 34.04 percent, 25 percent, and 21.09 percent.
In Horsepasture #2, Spencer, Axton, and Irisburg, Davis garnered 84.87 percent, 79.82 percent, 84.44 percent, and 80.14 percent respectively to the 14.93 percent, 20.18 percent, 15.31 percent, and 19.29 percent respectively, for Mills.
In Mount Olivet, Mountain Valley, Collinsville #1, and Daniels Creek, Mills received 18.24 percent, 13.40 percent, 27.31 percent, and 33.97 percent respectively to the 81.64 percent, 86.60 percent, 72.69 percent, and 65.56 percent respectively cast for Davis.
Davis also topped Collinsville #2, with 68.38 percent; 77.60 percent in Mountain View; 64.08 percent in Bassett, 74.59 percent in Figsboro, and 63.08 percent of the vote in Stanleytown.
In Oak Level, he picked up 59.70 percent of the vote; 83.99 percent in Dyers Store; 74.74 percent in Fontaine; 78.53 in Hillcrest; 77.06 in Ridgeway #1; and 76.29 percent in Ridgeway #2, unofficial results indicate.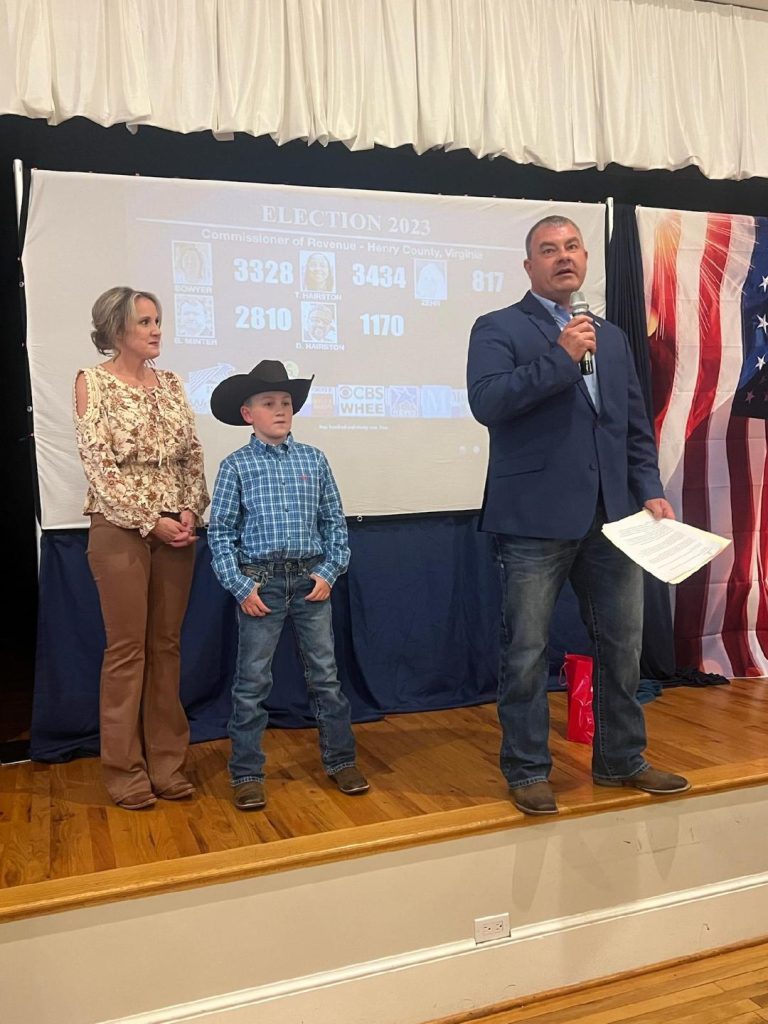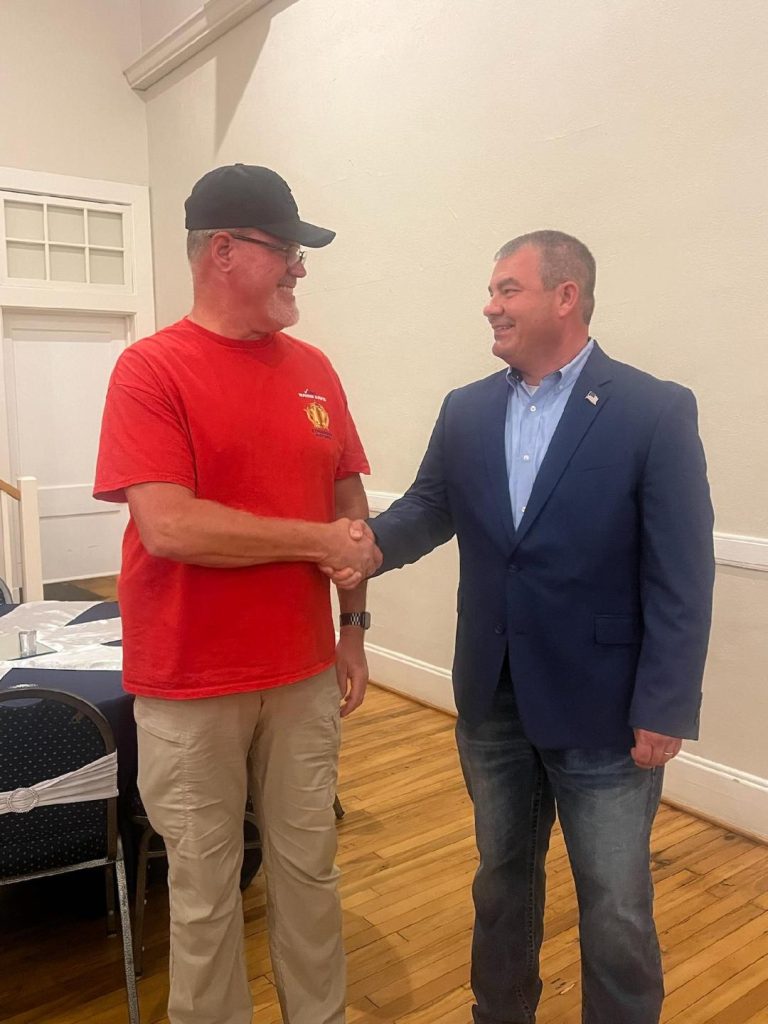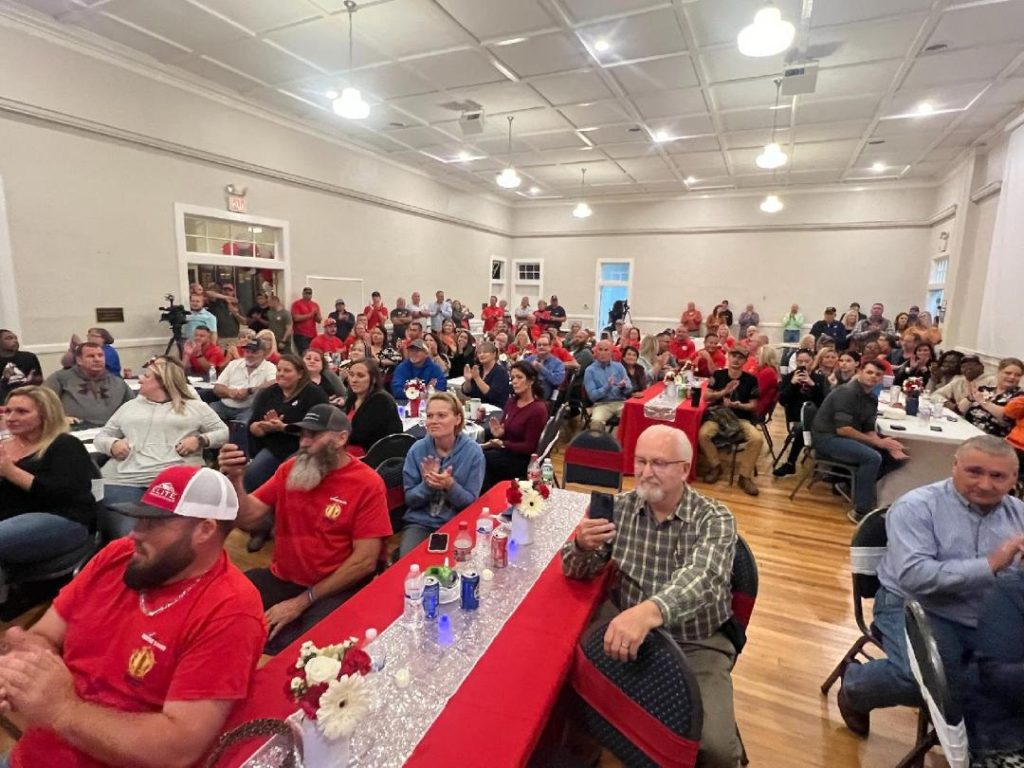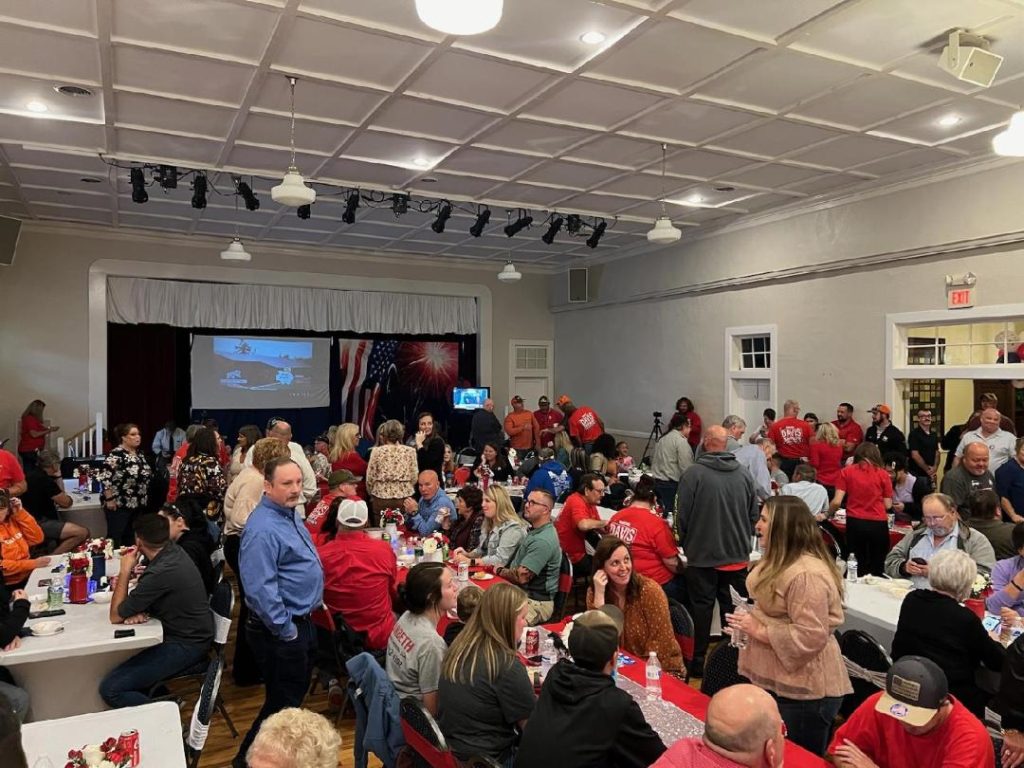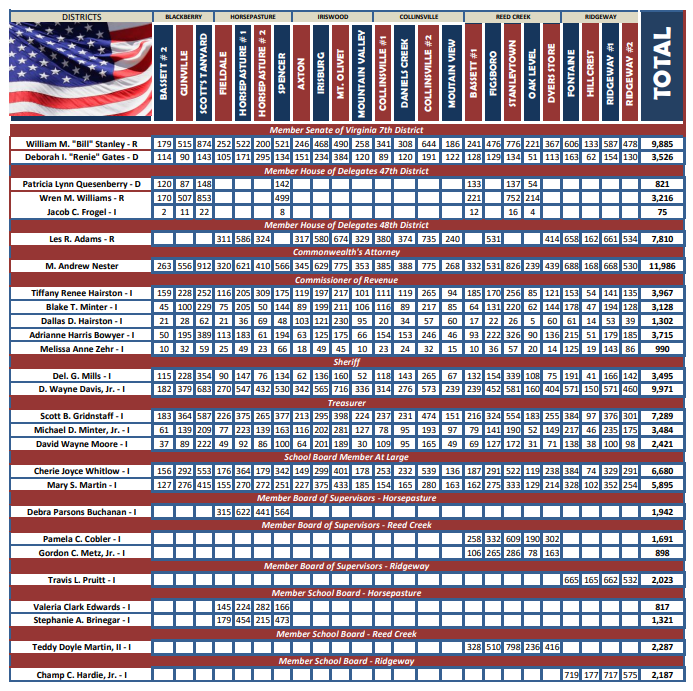 Tiffany Renee Hairston emerged as the winner of Commissioner of Revenue contest against candidates Adrianne Bowyer, Blake T. Minter, Dallas D. Hairston, and Melissa Zehr.
Scott Grindstaff easily won his reelection bid for Treasurer, defeating challengers Michael D. Minter, Jr., and David Moore.
Cherie Whitlow won her reelection bid for School Board Member At Large against challenger Mary Martin.
Pam Cobler handily won her first term to represent the Reed Creek District on the Henry County Board of Supervisors, against Gordon Metz, Jr.
Travis Pruitt was unopposed in seeking his first term to the Ridgeway District seat on the Henry County Board of Supervisors.
Stephanie Brinegar topped Valeria Edwards for the Horsepasture District seat on the Henry County School Board.
Unopposed incumbents winning reelection include Henry County Clerk of Court Jennifer Ross Ashworth; Commonwealth's Attorney M. Andrew Nester; Debra Parsons Buchanan, Horsepasture District on the Henry County Board of Supervisors; Teddy Martin, II, Reed Creek District on the Henry County School Board and Champ Hardie Jr., Ridgeway District on the Henry County School Board. Darryl Holland and Andrew L. Barker, Jr., were elected Soil and Water Conservation Directors, Blue Ridge District.
Sen. William M. "Bill" Stanley, Jr., R-Moneta, defeated Deborah I. "Renie" Gates; and Del. Wren M. Williams, R-Stuart, topped Patricia Lynn Quesenberry, a democrat, and Jacob C. Frogel, an independent. Del. Les R. Adams, R-Chatham, was unopposed in his reelection bid.
In the City of Martinsville,
City of Martinsville
Jeannie Nunn was unopposed in the Clerk of Court contest.
Stanley and Adams also won among city voters.