Patrick & Henry Community College has been named National Association of Community College Entrepreneurship (NACCE) Entrepreneurial College of the Year for its StartUP and Grow program, offered in partnership with MHC Chamber of Commerce. The award was presented at NACCE's annual conference, held in Nashville.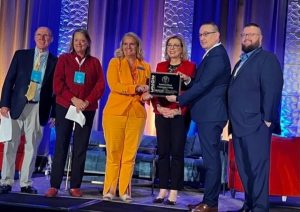 "This recognition is a testament to P&HCC's dedication to fostering entrepreneurship and driving positive change in the local community," said Corbin. "P&HCC has demonstrated an unwavering commitment and leadership as a member of NACCE's inaugural Entrepreneurial College of the Future (ECoF) program, yielding impressive results."
"This award speaks to our dedication to small business development in the communities served by our college," said P&HCC President Greg Hodges, adding, "it is our great honor to support the members of our community in solidifying their financially stable futures through careers they love."
Since the start of the program, P&HCC has graduated 314 entrepreneurs, culminating in the creation of 74 new businesses and 270 new jobs with over $500,000 in cash and in-kind prizes awarded. The college has also expanded its Entrepreneurial Boot Camps with the Martinsville and Henry County Chamber of Commerce and established "MHC Grow," a four-week program designed for fledgling entrepreneurs. Both programs are free to all participants and provide small business owners with the knowledge and skills to succeed.
"Patrick & Henry Community College's selection as NACCE's 2023 Entrepreneurial College of the Year attests to the leadership of President J. Gregory Hodges, Ph.D., who has continued to expand the college's entrepreneurial programs," Corbin said, adding, "A notable achievement is that over half of the program participants in the program are women, and in a community comprised of 20 percent people of color, almost half of the participants are minorities. This has contributed to a surge in women and minority-owned small businesses in the region."
P&HCC offers its Entrepreneurial Boot Camps entirely free of charge to all participants through its partnership with the MHC Chamber of Commerce. This inclusive approach has made entrepreneurship education accessible to a broader spectrum of the community. The economic renaissance experienced in the local community is a testament to the college's dedication to expanding regional entrepreneurship.
"We are so pleased to partner with P&HCC to encourage entrepreneurship in our community. The StartUP and Grow programs have been critical in the economic revival of our community and I'm very pleased to have this important work recognized on the national level," said MHC Chamber President Brenell Thomas.
The National Association for Community College Entrepreneurship (NACCE) is a 501(c) (3) organization dedicated to promoting entrepreneurship through community colleges by providing resources and support to build and sustain high-impact entrepreneurship programs. The association represents 340+ community and technical colleges, universities and HBCU's, including over 2,000 faculty, staff, administrators, and presidents who serve more than three million students. For more information, visit nacce.com.