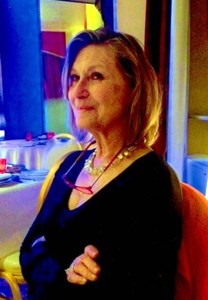 Crystal Coryell Gravely Helbing Austin, 77, of Martinsville, Va. passed away Monday, July 31, 2023.  She was born July 4, 1946, in Indianapolis, Indiana, to Glynn Lawrence Coryell and Allie Mae Heath Coryell.
In addition to her parents, she was preceded in death by her first husband, Harry Clay Gravely III; her second husband, Edward J. Helbing; her son, Harry Clay Gravely IV; brothers, Glynn Heath and J. Ritchie Coryell; and sister, Patricia Vade Coryell Humphrey.
She is survived by her third husband, James "Jim" Raymond Austin; son, Glynn Coryell Gravely (Rikki Horton Gravely); daughter-in-law, Jennifer Beeler Gravely; grandchildren, Asher Glynn Gravely, Annalise Sutton Gravely, Harry Clay "Quinn" Gravely V, and Brooks Schottland Gravely, and many beloved stepchildren, nieces and nephews.
Mrs. Austin was very active in promoting her community and civic groups.  She was a member of The Garden Study Club of Martinsville, the Charity League and Piedmont Arts, which she helped to form.  She had also served as Director of Development of Boys and Girls Club of Holland, Michigan.
She was also an active participant in the First United Methodist Church of Martinsville, First Baptist Church of Martinsville and Christ Episcopal Church.
A funeral service was held at 11:00 am on Saturday, August 5, 2023, at Christ Episcopal Church and was officiated by the Reverend John Adams and Reverend Dr. Libby Grammer. Interment was at Oakwood Cemetery.
The family is especially grateful to the wonderful aides who helped Crystal as her health failed: Vanessa Gravely, Dorothy Hairston, Brenda Devins, Sylvia Ann Tucker, Alishia Carter and their wonderful housekeeper, Rosetta Peatross.  We are also grateful for the loving care and support provided by the nurses and staff of Mountain Valley Hospice during Crystal's final days.
In lieu of flowers, memorials may be made to Multiple System Atrophy Coalition,
1660 International Drive, Suite 600, McLean, VA 22102 or at https://www.multiplesystematrophy.org/donate-now, or to a charity of the donor's choosing.
McKee-Stone Funeral Home, Martinsville, Va. is serving the family.
To express condolences online, please visit www.collinsmckeestonemartinsville.com