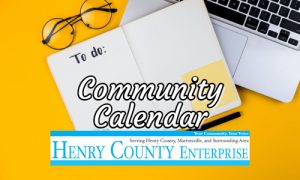 (Event information/calendar items must be received by 5 p.m. on the Tuesday before the desired publication date. Email to dhall@theenterprise.net.)
Meetings
The Martinsville-Henry County Lions Club regularly meets on the second and fourth Tuesdays of each month at 6:30 p.m. at the Pacific Bay Restaurant, 530 Commonwealth Blvd, Martinsville.
Tuesday, October 24 
The Henry County Board of Supervisors will hold its regular monthly meeting at 3 p.m. in the Summerlin Room of the Henry County Administration Building. 
Thursday, November 2
The Henry County School Board's monthly meeting will be held at 5:30 p.m. in the Summerlin Room on the 1st Floor of the County Administration Building in Collinsville. The regular meeting will be followed by closed session.
Events
Saturday, October 21
Altrusa of Martinsville and Henry County will be hosting the District Two Area III Workshop at the Virginia Museum of Natural History at 9 a.m.
Free Community Breakfast at First Presbyterian Church, 1901 Patrick Henry Avenue, Martinsville, Virginia. Serving time is: 8 a.m. – 9:30 a.m., with carry out plates available after 9 a.m. if food is available.
Bassett Highway 57 Cruise-In, 3-7 p.m., Downtown Bassett. This is the Final Event of 2023. Will honor "Ole Time" modified and present day drivers and their race cars. A FREE EVENT, sponsored by the GBAC. ALL ARE INVITED.
Sunday, October 22
Fall Festival, Fort Trial Baptist Church, 3-5 p.m., with candy, games, food and giveaways, at the church, 170 Oak Level Road, Stanleytown.
Tuesday, October 24
The Bassett Historical Center will host April 1865: Danville, Martinsville, and the End of the Civil War, at 10:30 a.m., as local historian Jarred Marlowe takes a look at the last week of the Civil War and the roles that both Danville and Martinsville played in the final few days of the war. The program is free and open to the public. It will be held in the Susan L. Adkins Memorial Meeting Room.
Wednesday, October 25
Legendary Conversations with Richard Petty & Frank Scott, 7 p.m. Food trucks starting at 5, live music and race cars – at the Baldwin Building (NCI).
Saturday, October 28
Books & Treats, a trunk or treat event, 5-7 p.m. at the Martinsville Main Library Branch, 310 E. Church St., Martinsville, with an interactive Halloween Storytime Schedule. Walk the Trail of Treats and visit the Spooky Garden. Books and treats will be available while supplies last. 
Trucks and Treats with treats, prizes and games, 6 p.m., Marshall Way in Fieldale, sponsored by the Fieldale Volunteer Fire Company.
Tuesday, October 31
Uptown Trick-or-Treat, 4-6 p.m. Participating businesses include Barking Beauties LLC, Charity League of MHC, Collins-McKee-Stone Funeral Home, Food Lion-Greensboro Road, Just Breathe Yoga & BodyWorks, Teen Arts Council-Peidmont Arts.  Park in the Broad Street Parking Lot and follow the loop of businesses down Church Street and back up Main Street. 
Friday, November 3 – Saturday, November 4
Yard sale 8 to 1 at Fieldale Recreation Center, 7 Marshall Way, Fieldale. Cash only. Lots of bargains and great Christmas gifts.
Saturdays through November 18
Martinsville Uptown Farmers' Market is open from 7 a.m. to noon, with the freshest fruits and veggies, homemade snacks, locally raised beef, and more. July 5-September 27, the market is open Wednesdays from 7 a.m. to noon.
ONGOING
The Bassett Ruritan Club hosts Rook Music & More on Fridays from 10 a.m. – noon. Play Rook, work puzzles, make a craft and listen to a mixture of bluegrass, country & gospel music by different bands each week. If you want, you can bring a snack to share. This event is free to the public. Any donations received will go to the Bassett Ruritan Club to pay for electricity etc.
Registration is underway for UPWARD Basketball and Cheerleading, for youngsters 5 years old through 5th grade, $65 each at Fort Trial Baptist Church in Stanleytown. Call (276) 629.2964 or email pastordreed81@gmail.com.
The Blue Ridge Regional Library offers free one-day passes to the Virginia Museum of Natural History and the Henry County YMCA with your library card. The passes are good for one day and exclude special events. There is a wait period before you can check out the pass again. For more details and exclusions, visit brrl.lib.va.us. 
The Fontaine Ruritan Club hosts Bingo every Tuesday at 1903 Joseph Martin Highway, Martinsville. Doors open at 5:30 and games begin at 7. Money from Bingo supports community service awards, scholarships, and other community efforts. 
Book Bingo on the 4th Tuesday of the month at the Martinsville Branch of the Blue Ridge Regional Library, 11 a.m. to noon. Call (276) 403-5430 to register. 
Medicaid eligibility renewals have resumed. Martinsville-Henry County Coalition for Health and Wellness (MHCCHW) offers Medicaid/FAMIS application and renewal assistance for Virginia residents from birth to 64 years of age in-person: Wednesdays 10 a.m.  – 1:30 p.m. at Community Storehouse, 128 E. Church St (lower level of the old Leggett Building) in Martinsville, or by phone, Monday – Friday, 8 a.m. to 5 p.m. MHCCHW's specially trained Medicaid/FAMIS Outreach Advocate is available to help. Call or text Ann Walker at (276) 732-0509 to learn more or for an appointment.
The Henry County Adult Learning Center offers free in-house and online classes to help prepare for college, career, or earn your high school equivalency or GED. Call (276) 647-9585.