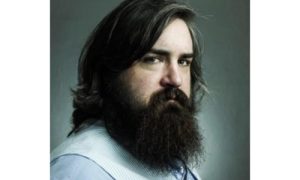 Well folks, it's that time again: by the time this column is published, the first debate between the field of Republican Presidential nominees will have taken place, and we'll all be left to consider their various merits while drinking heavily and staring into the middle distance.
There's little question of who the Democratic candidate will be going into the election: incumbent President Joe Biden, a man who by all rights should be enjoying the second decade of his retirement. Sure, he faces competition from Robert F. Kennedy Jr. and Marianne Williamson, but many believe they don't have a clear path to the Democratic nomination on account of their howling, all-consuming madness.
Who, then, will win the Republican primary? Let's go through all the current candidates and consider their odds.
Francis Suarez — 0.3%
Miami Mayor Francis Suarez is running on his fairly moderate record, which means he will be quickly obliterated.
Will Hurd — 0.4%
A former CIA officer and U.S. Representative from Texas, Hurd has gone on record as saying he believes in bipartisanship, so he's doomed.
Doug Burgum — 0.5%
North Dakota Governor Doug Burgum loaned his campaign $10 million and used that money to give people $20 gift cards in exchange for donations of as little as $1 so that he could meet the donor criteria for getting on the ballot. While he won't win his party's nomination, there's a decent chance Elon Musk will hire to him for his expertise in inventing exciting new ways to waste millions of dollars.
Asa Hutchinson — 0.6%
Former Arkansas Governor Asa Hutchinson is primarily famous for being the only person named "Asa" since the heyday of 1800s baseball. He polls well among those who fondly remember the rivalry between the Brooklyn Bridegrooms and the Worcester Ruby Legs, but it probably won't be enough to secure the vote of anyone under 160 years old.
Tim Scott — 3.4%
Despite serving as the junior U.S. Senator from South Carolina since 2013, there's one big reason that 
Tim Scott will never secure his party's nomination:
His stance on police reform.
Why, what did you think I was going to say?
Chris Christie — 3.5%
Former New Jersey Governor and current walking punchline Chris Christie is a vocal critic of Donald Trump. You can always count on Chris Christie to follow his conscience after he's tried everything else.
Nikki Haley — 3.5%
Former South Carolina Governor Nikki Haley is colloquially known as "The Meteorologist" because her support for Donald Trump changes depending on which way the wind is blowing.
Mike Pence — 4.7%
Former Vice-President Mike Pence has begun to develop sour feelings towards Donald Trump, which just goes to show that some people turn ungrateful the moment you attempt to have them publicly hanged by an angry mob. Mike Pence is running as the strongest anti-abortion candidate, which might have meant something about a year ago.
Vivek Ramaswamy — 9.3%
If elected, Vivek Ramaswamy has promised to pardon Donald Trump, abolish the FBI, and raise the voting age to 25. Many of his critics have labeled him "delusional." Not because of his campaign promises, but because he seems to think a guy named "Vivek Ramaswamy" could ever secure the Republican Presidential nomination.
Ron DeSantis — 15.2%
What's to say about Ron DeSantis that hasn't already been inarticulately screamed at an elderly Florida librarian just trying to do her job? Sure, Florida Governor Ron DeSantis has suggested that slavery taught black Americans valuable skills, started a feud he can't possibly win against one of his state's biggest employers, gotten bogged down in meaningless culture war nonsense, and objectively made his state a worse place to live, but on the other hand, he's also deeply, deeply unlikable.
Donald Trump — 52.2%
Former President Donald Trump is currently facing 91 charges across four criminal cases, including 44 federal charges and 47 state charges, and may spend the rest of his life in prison.
He is the current Republican frontrunner leading Ron DeSantis by 37 points.
That was the punchline.