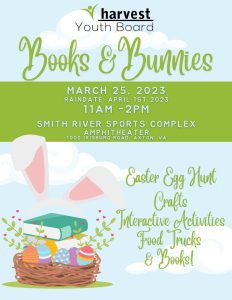 The second annual Books & Bunnies event is set for Saturday, March 25.
The event will be from 11 a.m. to 2 p.m. at the Smith River Sports Complex Amphitheater. The rain date will be April 1 at the same time.
Started by the Harvest Youth Board, Stacy Peters, the Harvest Foundation grants administrator, said the free event focuses on literacy within the community.
"After doing some research," the youth board "saw where the literacy rates were a little lower after COVID, and they learned a whole lot about if a child is behind by the age of third grade in reading that they may struggle with reading pretty much for the rest of their life.
"So, they really wanted to take an initiative and do something for the children in this area," she said. 
There will be an Easter egg hunt, crafts, interactive games, food trucks, and books at the event.
"Every child that comes will get at least one book," she said.
Peters said children will receive books appropriate for their age groups. 
"Some of the books last year were donated by Smart Beginnings. The Harvest Youth Board purchased a large number of books as well to be given out," she said.
Peters estimates between 500-700 children attended last year's event.
For last year's Easter egg hunt, Peters said more than 20,000 eggs were hidden. 
"This year they actually ordered a few more. I think it's 22,000," she said.
There will also be two egg hunts this year at two different times.
"Because at that time of year, there's a lot of other activities going on and we didn't want anyone to miss it, so we put up two different time frames," she said.
Board member Cristiano Di Maro said being able to see hundreds of kids at last year's event get full baskets of Easter eggs and being able to take a book home was fulfilling.
"This year, I'm so excited to be putting on the event again. I am looking forward to seeing an even bigger turnout and even more books being put in the hands of kids in our community," he said.