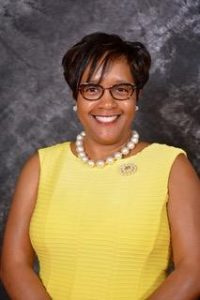 The Martinsville – Henry County Chamber of Commerce, a membership-based association whose mission is to promote and protect the interests of the business community, welcomes Brenell Thomas as the President. Thomas will also serve as the Executive Director of the Chamber's Partnership for Economic Growth (C-PEG). Thomas is the former Coordinator of Training and Professional Development at Patrick & Henry Community College and brings 21 years of valuable experience in workforce development, training, and professional development that will contribute to the success in her new role as President.  
"The search committee was very impressed with Brenell's commitment to the Martinsville Henry County community over the years, her strong connections to many of our local businesses and her leadership training expertise.  We believe she can work well with our staff, our membership, and the community at large, and she'll be a great asset in this role," said Anne Smith, chamber board chairman. 
While at P&HCC, Thomas was awarded the 2017 Virginia Community College System's Chancellor's Award, a 2011 Community Education Recognition Award, 2010 VCCA Staff Showcase Award, and she has completed the Leadership M-HC program of the Chamber of Commerce. She has also served on and held offices with many boards in the M-HC community including the Chamber and its Education Foundation, ensuring a better place for all to live. 
The M-HC Chamber of Commerce and C-PEG began the search for a new president and executive director following former President Lisa Watkins' resignation. Thomas will start April 3.
"I am grateful for the confidence the Board has placed in my ability to lead C-PEG and the Chamber, an organization with a strong legacy of serving Martinsville and Henry County for almost 65 years," said Brenell Thomas. "I hope to transfer my passion for workforce development into a positive energy that helps our community!"
Thomas received her Bachelor of Arts from University of Virginia and is currently working on her master's degree from Radford University. She is also a member of Delta Sigma Theta Sorority, Incorporated.