Bonez & Booz, one of the region's premier Halloween and Fall Festivals, is set to return to the Virginia Museum of Natural History (VMMH) in Martinsville on Saturday, October 28, from 4 to 10 p.m. The event offers attendees a full lineup of live entertainment and interactive activities, including fire performances, magic shows, stilt walkers, carnival games, costume contests, food trucks, a beer garden, and more.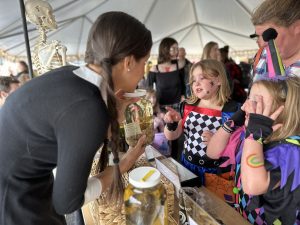 "Last year's inaugural Bonez & Booz proved to be an absolute hit for thousands of visitors and we're excited to offer it again this year to everyone looking for an extremely festive, fun, and safe Halloween experience," said VMNH Visitor Services and Events Manager Robbie Hendrix-Wirt. "All of the crowd-favorite performers from last year's event are set to return, including the amazing fire performers from Imagine Circus out of Raleigh, North Carolina."
The event, which primarily takes place outdoors, will feature a wide variety of stage shows, including fire performances and magic shows throughout the evening.
"We want to make sure we have live entertainment taking place throughout the evening and that the quality of the performances is top quality," said Hendrix-Wirt. "In addition to the fire performances, this year's event will bring back the talented illusionist Nelson Oliver and stilt-walkers from both Imagine Circus and Miss Kitty's Society for Wayward Cosmonauts."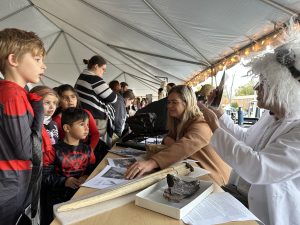 Beyond live entertainment, the event will feature numerous interactive activities, such as carnival games, costume contests, face painting, balloon art, caricature art, and even a Halloween photo booth. The museum will also open its exhibit galleries for a unique scavenger hunt experience.
"Because this event takes place during the evening and most of the activities will occur outside, we're going to be able to open up the museum's exhibit galleries for scavenger hunts that visitors can complete at their own pace," said Hendrix-Wirt. "The galleries will be thematically lit and staged to provide visitors with a one-of-a-kind exhibit experience we don't offer at any other time of the year. The scavenger hunt is purely optional, and visitors can choose to tour the exhibits at their own pace without participating in the hunt, if they'd like."
As with all museum events, science will play a significant role during Bonez & Booz.
"The museum has a holding of over 10 million scientific specimens and a large variety of those could be described as strange, spooky, or even harrowing," said Hendrix-Wirt. "Bonez & Booz gives VMNH scientists a fantastic opportunity to showcase some of the museum's most bizarre specimens."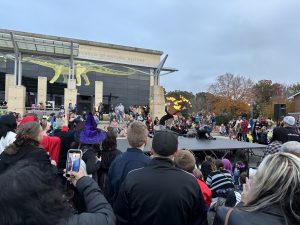 Bonez & Booz will also offer a large variety of food and drink options, including a beer garden and the Bonez & Booz Food Truck Alley, which will feature numerous food choices, such as barbecue, hot dogs, sandwiches, sausages, cotton candy, candy apples, and more. Food trucks scheduled to be on-site include, Buckin' Good Eats & Lemonade, Palumbo's, Daddy Q's BBQ, River City Eats, Kona Ice, and Bahama Sno-shack.
Admission to Bonez & Booz is $10 per adult and $5 for ages 3-17. Admission is free for children under 3, museum members, and members of museums and science centers that participate in the ASTC Passport program.
The museum also participates in the Museums for All initiative, offering discounted admission to EBT cardholders. Through this program and additional funding provided by Hooker Furnishings and Carter Bank & Trust, visitors who present their EBT card and accompanying ID at the gate will receive free admission to Bonez & Booz. Free admission applies to the cardholder and up to 5 immediate family members living within the same household.
Bonez & Booz is sponsored by, Bassett Furniture Industries, Boxley Materials Company, Carter Bank & Trust, SOVAH Health, and The Helen S. & Charles G. Patterson Jr. Charitable Foundation Trust.
Parking at this event will be available off-site. The museum will be closed to visitors during its normal operating hours (10 a.m. to 4 p.m.) on Saturday, October 28 in preparation for the event. All costumes must be family friendly. The museum is a tobacco and vape-free campus.
For more information about Bonez & Booz, visit www.vmnh.net/events/bonez-and-booz.