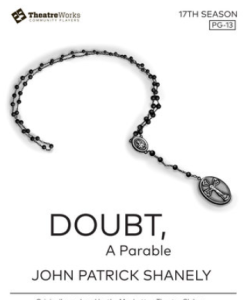 The performance dates and times for "Doubt, A Parable," are Oct. 13, 14, 20, 21 at 7 p.m. and Oct. 15 and 22 at 2 p.m. at The Black Box, 44 Franklin St. Martinsville.
The cast includes (in order of appearance): Father Flynn – CJ Bowman, Sister Aloysius – Valerie Bowling, Sister James – Elisabet Minter, and Mrs. Muller – Odesia Millner.
Directed by Joanie McPeak, the Stage Manager is Roslyn Simmons, with Lights and Sound by Mike Greco. 
The 2005 play, written by John Patrick Shanley, analyzes an instance of doubt and suspicion in a Catholic school (St. Nicholas). Set in the Bronx in 1964, the play tells the story of principal Sister Aloysius's suspicions about an inappropriate relationship between a priest, Father Flynn, and a young male student.
Purchase a Friday Night UPTown Bundle and receive a $20 voucher to redeem at Hugo's Restaurant any day after the performance (valid until 12/31/23). This is a $40 value ($20 Doubt, $20 Hugo's) for only $30. Available only in advance online for a Friday Night performance only (Oct. 13 and Oct. 20).
Tickets are $20 in advance, $25 at the door, and the $30 Friday Night UPTown Bundle. 
To purchase tickets online, visit twcp.net.