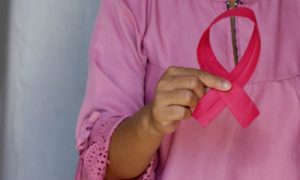 In celebration of Breast Cancer Awareness Month, the MLC Cancer Foundation will host "A Pink Event – Wellness Symposium & Fundraiser," honoring the lives of cancer survivors. Patricia Via founded the organization in 2012 to give back to cancer patients and survivors, and promote early detection, which saves lives. Since its inception, the organization has given out almost $100,000 in direct and indirect funds for cancer patients and to help educate the community on health and wellness. 
On Saturday, Oct. 21, organizers will provide individual awards totaling $6,000 and 15 genetic screening tests.
The event is at 3 p.m. at New College Institute, 191 Fayette Street, Martinsville. It is intended to help save lives, provide education and honor those that have succumbed to cancer.  Funds raised will assist to provide mammographic breast screening and diagnostics to uninsured women, provide financial assistance to cover medical costs for treatments, cover costs for genetic testing and provide health and wellness education. 
Donations to MLC can be made before, during and after the event at mlccancerfoundation.org/donate.html. 
In October, the MLC continues its CAN [Take Control And Navigate Your Health] marketing campaign on Facebook (@MLCCancerFoundation), Instagram (@MLCCancerFoundation) and Twitter (@THEMLCCF). People in the Martinsville surrounding area are encouraged to help save lives and decrease the death rate after cancer diagnosis and to increase their overall knowledge around health and wellness.
The public will continue to learn how to Turn Can't to CAN with genetic testing, hear the stories of cancer survivors and learn more about Insurance Plan Options – Learning the Ins and Outs of Insurance.
The foundation also hosts the "I CAN" panel with community members to have frank conversations about navigating your health. Early detection saves lives and the marketing campaign will promote the benefits of health education and screenings. 
The headline speaker is Ed Reynolds, who is a retired National Football League (NFL) league office executive and American football linebacker who played in the NFL for the New England Patriots and New York Giants. He shares more about his Crucial Catch, the importance of cancer screenings and how early detection saved his life.
Zeta Phi Beta Sorority Inc, – Upsilon Delta Zeta Chapter will accept the MLC Cancer Foundation Community Partner Award.  No attendee will leave empty handed. All attendees will take home resources to help them in their health journey. Fifteen complimentary Genetic Health Screen tests will be provided to interested attendees to better understand their genetic makeup. Three cancer patients will be awarded $1,500 to help to cover expenses during their cancer journey. Finally, one attendee will be awarded $1,500 toward their health and wellness journey.  
In addition to the A Pink Event- Wellness Symposium & Fundraiser, additional events this month include:
Paint the Town Pink, Oct. 14 at 11 a.m., the walk begins at 11 a.m. at the empty lot across from Womack Supply and ends at the Big Chair Parking lot. Enjoy the Walk, Cruise-In, Music, Guest Speakers and free food. 
Awareness Brunch, Oct. 28 at 2 p.m., Parks of Chatham, 1152 N. Main Street, Chatham, cancer survivor participants share their bond by celebrating life. 
The MLC Cancer Foundation is a non-profit, tax-exempt organization that offers resources and financial assistance to cancer patients to cover expenses incurred due to their diagnosis. In addition to financial support, the foundation educates people on preventative options and genetic testing benefits for the entire family. The foundation also offers personal and moral support for the patient and family. For more, visit  mlccancerfoundation.org.