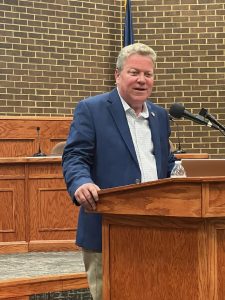 State Sen. William M. "Bill" Stanley, Jr. R-Glade Hill, qualified to be on the November ballot as a candidate for the Republican Party in the newly drawn 7th State Senate District. 
Stanley said he learned the information on Friday from Eric Phillips, chairman of the 7th Senate Legislative District Committee.
Phillips "also informed me that since no other candidate had filed for election for the Republican nomination, I am officially the Republican nominee for the 7th District," Stanley said. "I am truly honored to be the candidate for this senate seat, and I want to thank everyone who signed our petitions and worked so hard for us during the nomination process."
Stanley is the incumbent in the current 20th State Senate District.
The new district includes Patrick, Henry, and Franklin counties, as well as Grayson, Carroll, and Floyd counties, part of Wythe County, and the cities of Martinsville and Galax.