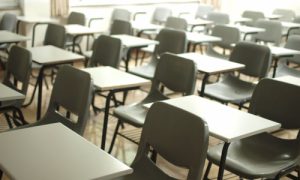 The search for the next Henry County Schools superintendent is currently underway, as the current superintendent, Dr. Sandy Strayer, plans to leave her position on June 30 to become the Harvest Foundation's new health and education program officer. 
Teddy Martin, chairman of the Henry County School Board, said interviews are currently underway. 
"So far, we've gotten a good-sized pool and we've started doing interviews, and we're hopeful," he said.
Martin said he and the division still anticipate meeting the July 1 goal, and potentially not need an interim between Strayer's departure and hiring the new superintendent.
"But it is a search so anything can happen. I can't really make a promise there, but that's the way it's progressing," he said.
Both internal and external candidates are interested in the position, according to Martin, who said the division is seeking a candidate that has the characteristics the community mentioned in surveys and at the listening sessions the division held.
"Many (characteristics) were pretty common," he said. "We're looking for someone who's a leader, accountable, has had many different levels of experience in the school system, an educator, someone, if they're from here or not from here, would be invested in our community. 
"We're not looking to be a stepping stone for anybody, we're looking to be an employer of choice and lead our division," Martin added.
The division held four listening sessions with about two dozen people attending to give their perspectives.
"Obviously, they didn't all necessarily agree. There were some that said go internal and some that said go external. But in terms of the actual characteristics, they were relatively consistent in what they were looking for in a person," he said.
One thing Martin found interesting was that people wanted to make sure the division didn't require a doctorate for the position. 
"We don't. It's a preferred qualification for the job posting. But I found it somewhat interesting because historically we hired (former superintendent) Anthony Jackson, who did not have a doctorate, and Sandy Strayer did not have a doctorate. "I don't think we have had a reputation for insisting upon a doctorate," he said.
"I think it's an interesting dynamic of that perspective," he said.
Martin is unaware if the division plans to send out additional surveys or hold more listening sessions.
"I always want input. I don't view this as 'tell me what you want then we're done,'" he said.
On the other hand, given the timeframe the division is looking at and the confidentiality component of the search, Martin does not know if another round of listening sessions could be held. 
While he does not know how long the search will take, Martin said he is hoping for a period of transition that would allow the next superintendent to learn from Strayer.
Regardless, Martin said he feels confident the school division and Strayer will do their best to ensure a seamless transition.