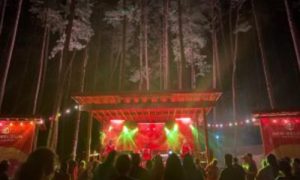 Organizations in Henry and Patrick counties will receive matching grant and sponsorship funds as part of the Virginia Tourism Corporation's Regional Marketing, Marketing Leverage, and VA250 Marketing Leverage programs.
Ine Henry County, Rooster Walk Inc. 13th annual Rooster Walk Music & Arts Festival Sponsorship was awarded $10,000; Infinity Acres Ranch Let's Go! Alpaca My Bags! received $20,000 and Rooster Walk, Inc. Walk This Way Marketing is slated to receive $15,000
Program benefactors in Patrick County are One Family Productions Front Porch Fest 14 $10,000; Patrick Dominion Valley Events Memorial Weekend Gospel Event $10,000; Patrick County Tourism Moonshine Heritage Trail, Phase I $5,500; Patrick SRC (Stuart Rotary Club) Productions Stuart Beach Music Festival (also known as Hot Fun in the Summertime) $10,000.
The matching funds and grants awarded in Virginia total more than $3.2 million, with 236 programs and 1,100 grant recipients, Gov. Glenn Youngkin said during the announcement that coincided with the kickoff of National Travel & Tourism Week. 
The funding programs are designed to leverage local marketing dollars with matching state funds to increase visitation and traveler spending through 2024. This funding cycle, local partners will commit more than $15.5 million to match the VTC funding, providing more than $18.5 million in new marketing and event production activity focused on increasing overnight visitation to Virginia. The funding will be awarded to 236 marketing programs, ultimately impacting 1,161 combined partners.
The VTC will have a VA250 Tourism Marketing Program grant round and a Microbusiness Marketing Leverage Program grant round opening in Summer and Fall 2023. Organizations and businesses that are interested in applying may visit vatc.org/grants for more information.