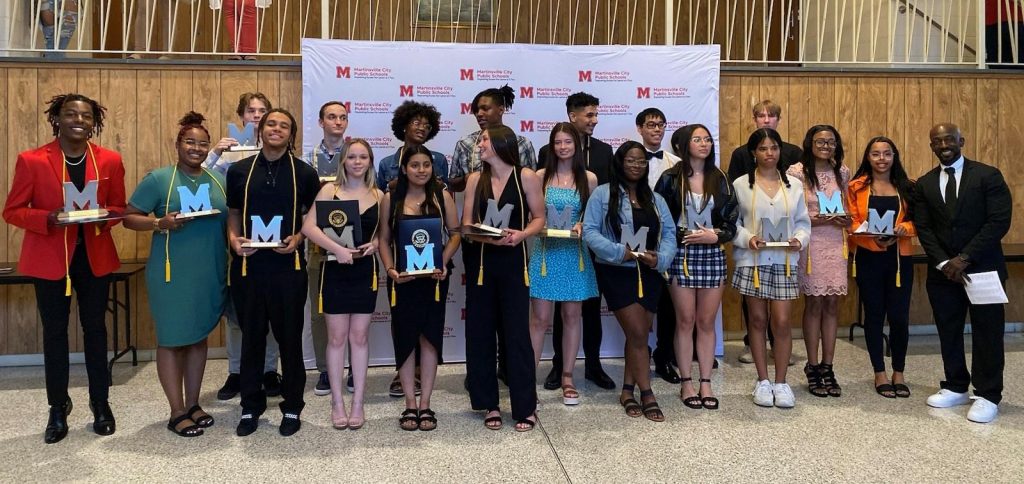 Martinsville High School recently held its "Big M" Awards ceremony. Twenty-two high school seniors received the Big M trophy. Only seniors with a cumulative scholastic average of 3.7 and above are eligible for the trophy. Eligible students must be enrolled in three or more academic subjects, one of which must be an honors course. Students who receive the Big M certificate must have a 3.7 grade point average for the academic year.
Big M trophy recipients: Marcaisa Jenee Becker, Demitri Keyvon Blackwell, Hayden Elise Calfee, NiJe'l Malik Cook, Christian Alexander Scott Eames, James Demetrius Farris Jr., Nadia Jazmin Flores, Zane Mills Gardner, Matthew Gabriel Gilbert, Trenati Cherkara Hairston, Katherine Marie Hall, Natalia Janae Martin, Eyad Abdelnaser Mohamed, Amanda Marie Mosser, Faith Elena Munoz, Joseph Hunter Nguyen, RG Vincent Olea, Ashlynn McKenzie Patten, Myia Shante Pettie, Ciara Monique Ramey, Papion Jolie Ritenour Shelton and Kayla Marie Solomon.
Patrick Henry Elementary School
Fifth Grade: Zariyah A'neese Bouldin, Henry N. Byram, James Andrew Hall, Jairo Samuel Mata, Arielle Elizabeth Mitchell, Daniya Sue Penn, Maya Elizabeth Williams. 
Albert Harris Elementary School
Fifth Grade: Alyce Lucille Arrington, Kevin Gabriel Avila-Santiago, Janette Guadalupe-Carrilo-Llamas, Jeffrey Alan Cousins, Hope Cherish Belle Hairston, Luis Balcazar Hernandez, Taimir Ja'kaylen Manns, Freddy Munoz, Quandel Fitzroy Richards.
Martinsville Middle School
Sixth Grade: Zyad Abdelnaser Khalaf, Mohamed Bayoumy, Bridgette Alise Brent, Olivia Grace Campbell, Christopher Rolando Carpio Yanez, Nadia Yazmin Dominguez Gonzalez, Marisol Garcia-Macias, Zoey Elise Hannans, Zackary Randall Harter, Renisha Jacqueline Millner, KaVaughn Michael Muse, Josiah David Porter, Samson Elijah Ray, Addison Ann Soper, Arianna Marie Y'barra.
Seventh Grade: William Dardan-Scott Bela, Abigail Savannah Campbell, Brennan Chase Coleman, Kira Lynn Compton, Cordell Elijah Daniels, Keyara Renee Dillard, McKenna Nicole Mahan, Aileen Yuritza Nolasco, Kaden Alexander Paitsel, Zion Faith Perkins, Colby Bryson Robertson, Xavier Alonso Rodriguez, Erzart Shahini, Veronica Lorraine Smith, Symphany Chynah Necoal Talley, Zaina Denise Talley, Ja'Corian Drakar Turner, Lilly Grace Wall, Paris Noel Waller, Noah Drew Wright.
Eighth Grade: Jaden Alexander Ayoub, Serenity Hope Bradshaw, Kayra Shawn Carr, Sherman Chase Dillard, Fernanda Guadalupe Dominguez-Machuca, Angeliah Monae Eccles, Carrie Lynn Hudson, Sariyah Shaniece Little, Caden Amir Martin, Aniyah Brenae Millner, Julie Anna Nguyen, Ariyana Re Nae Nowlin, Jaden Anthony Porter, Jayce Edward Prillaman, Amyah Sheronne Richardson, Tyrese Lamar Smith, Gillian Katherine Soper, JaVonna Marjae Stubblefield, NaSir Antwaine Turner, Caleb Tyree Valentine.
Martinsville High School
Ninth Grade: Mykala Akins, Aubrey Blankenbaker, Gabriel Shalom Davis, Kamori Re Yanna Dillard, Shatavia Danielle Dillard, Zaniah Arianna Dillard, Chekiya Kailyn Galloway, Kaleeya DaJanae Hairston, Abigail Hernandez, Ny'Asia Chenelle Hood, Aerran Elysia Kellam, Jun Hermes Olea, Michael Jeremy Parker, Joeii Lei-Ann Putney, Jailyn Omarion Reynolds, Lillian Marie Rorrer, Rilynne Addison Williams, Kaira Merci Womack.
Tenth Grade: Anne Frances Agee, Adam Luis Aguilar, Elvin Ariel Amaya Turcios, Naun Isai Andrade Paredes, Evelynn Ruby Ayers, Yadira Carrillo Tamayo, Keara Lanette Carter, Esmeralda Castillo-Ocampo, Dale Allen Cochran, Ana Marie Compton, Sontrell Maciah Daniels, Tyanah O'Chelle Dickerson, Kassidy Micahel Dodson, Xavier Patrick Dunham, Ruby Jacqueline Flores, Ava Brooke Grant, Aliyah Bailey Hairston, Abigail Fae Haskew, Deniyah Shanice Hightower, Aidan Michael Hood, Isabella Juliann Hood, Kasey Dawn Inman, Ny' Qeriyah Brenee Kellam, Gavin Luke Luther, Alondra Machuca Tiznado, Skyla Daniele Martin, Rickyah Charlee Mitchell-Hairston, Steven Daniel Morales, John Riley Nguyen, Jacey Claire Pamintuan, Terriah D'Nae Roberts, Destiny Layanie Salda, Jariyah Yanise Smith, Mary Elizabeth Smith, Ayona Day Marie Stultz, Brooke Allison Turner, Isabella Haze Vega, Jayden Tyrion Aki Williams, Kaya Renee Yates, Noah Alexander Young.
Eleventh Grade: Damian Christopher Amada, Kirsten Alise Blankenbaker, Tyler Wayne Carr, Johnny Owen Clerc, Ryan Connor DiMingo, Paris Rose Fulp, Aleeyah Marie Calloway, Briana Garcia-Macias, Gabriel Lucas Haley, Makenzie Zamori Hylton, Arlette Jaramillo Mata, Caleb Parke Joyce, LynAsshia Neveah King, Natalie Marie LaPrade, Natalie Dominguez Loredo, Mallorie Sherrill Lowe, Adam Idris Mounkaila, Nayti Bhavesh Patel, Elijah Kenley Pickett, Ray McKinley Preston, Cortay Jovon Price, John David Ratliff II, Kaylee Angel Rea, Mason Crenshaw Rorrer, Skyler Lee Spence, Christopher Bryant Talley II, Emarious La'Ease Tinsley, Aniya Elise Torrence, Martiniano Torres Orozco, Tyra Makelle Valentine, Jordan Patrick Vaughn, Leslie Gorety Vasquez Espejo, Monica Elise Watkins, Whitny Ashton Williams, Destiny Jonet Witcher, Reagan Bailey Wright.
Twelfth Grade: Taynasia Jane Blackstock, Mikiyah Kimoria Carter, Hannah Divine Hairston, Camryn Savannah James, Usman Amer Khan, Allanah Monique Milton, Deonna Nichelle Street, Samantha Reese Wall, Dreshawn Darrell Young.
Seniors at Martinsville High School and their trophies are pictured Principal Aji Dixon (right).