Four Henry County deputies have been suspended without pay from their duties at the Henry County Adult Detention Center following what Sheriff Wayne Davis called "a concerning use-of-force incident" which resulted in injuries to an inmate.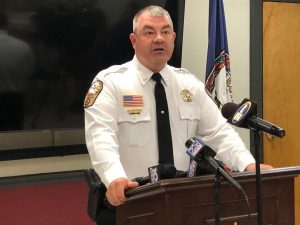 The Virginia State Police are investigating the incident, and the sheriff's office also is conducting an internal review, Davis said.
On July 1, a man was arrested for being drunk in public and brought into the jail, Davis said during a July 7 press conference at the sheriff's office. When he got into the jail, "he was intoxicated and very uncooperative."
Shortly after the man was brought into the jail, he refused to change into his jail-issued uniform, Davis said. "That situation ultimately escalated and resulted in Henry County deputies using force on the subject. As a result, the subject was injured."
The man, whose name was not revealed, was brought to the Sovah Health hospital in Martinsville, where he was treated for injuries and released, Davis said.
Davis said that as soon as he reviewed the incident, he contacted the Virginia State Police to request an independent review of what happened.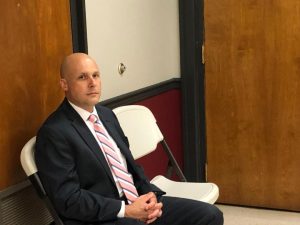 "We have turned over everything to the Virginia State Police and they have begun their investigation," he said.
He is also working with Henry County Commonwealth's Attorney Andrew Nester on the matter, he said, gesturing toward Nester, who was seated against a wall at the front of the conference room but did not speak.
Additionally, the sheriff's office "is conducting a full internal review of this situation."
The incident occurred just 24 hours after Davis was sworn in as sheriff of Henry County. He had been the second in command and was appointed to fill the remainder of Sheriff Lane Perry's term after Perry's retirement on June 30. Davis is now a candidate for the November election to the office for the next full 4-year term, against Del Mills and Daryl Hatcher.
"When I was sworn in as sheriff just days ago, I made a commitment to this community to be transparent in our process," Davis said. "And I also promised that I would hold accountable any deputy who failed the community's trust."
The suspension without pay is pending the outcome of the investigation, Davis said.
The $73 million 400-bed jail was opened March 2022. Almost 100 new deputies were hired to help staff the jail. About 30 percent of the new employees are under the age of 21, he estimated.
"When we undertook the project to get the new adult detention center off the ground, it was unprecedented to hire just shy of 100 new employees at one time," Davis said. "In today's workforce, it's difficult to get qualified employees, much less that many at one time, and some of the things that occurred was the minimum hiring age was reduced from 21 to 19 years of age, but I will say, effective today, we will take the minimum hiring age back to 21 years old."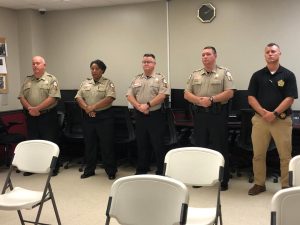 That is one of perhaps other potential changes to how the jail would be operated.
"Previous to this incident, my team and I identified areas that might need to be improved upon, and we have a list of those we are working on; but unfortunately, as I said, this took place 24 hours into being sheriff, so, it takes time to get new strategies and new things into place," he said.
The man was arrested on July 1 and the incident occurred shortly after midnight on July 2. Davis said he learned about it on July 6, the day before the press conference. Part of the internal affairs review is to determine why it took so long for the sheriff to learn of it, he said.
"Unfortunately, these incidents take place from time to time across this entire country, and no chief and no sheriff can be there with their officers 24 hours a day to oversee every process," Davis said.