The two candidates vying for the Reed Creek District seat on the Henry County Board of Supervisors offered their views on several topics at a Candidate Forum hosted by the Martinsville-Henry County Chamber of Commerce and Appalachian Power on September 7.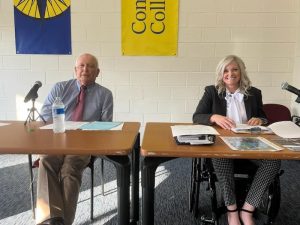 Pam Cobler and Gordon Metz discussed their views on everything from solar to economic development, education, law enforcement, and the budget. 
The three "pillars" for the county's expenses, Cobler said, are "70 percent of the budget is education, 20 percent is public safety and law enforcement, and 10 percent is health and human resources," noting that the county has been able to work within its budget, both with the agencies and to attract businesses to the area to the best of its ability. 
"County staff is capable of bringing solutions to issues and challenges. I do believe there's always work to be done, and I look forward to rolling up my sleeves on behalf of the voters in the official capacity of the Reed Creek Board of Supervisors seat," she said.
Cobler said she isn't sure how the county arrived at the fact that economic development became a priority over education and public safety. 
"Economic development is a systematic, ongoing problem that requires an ongoing, systemic answer. It is a pillar for success that requires a good education, a good and safe community, quality of life where we can live, work, and play, and healthcare," she said. But "they are all legs of a strong economy and a strong government. 
"We must have them all," she said and added economic development is dependent on all those things.
Metz said he favors returning some funds to taxpayers.
It is his understanding that the state mandates the county can take 10 percent of its budget and keep it year to year in case of an emergency.
"The understanding is we're more at 20 percent on the budget, which in my opinion is taxpayers' money," Metz said. "I think that as a board, we ought to decide how much money we need each year to take care of all the items we need to cover in Henry County, and either give a tax break back to people or whatever."
While he believes the top priority is a great place for economic development to be, Metz said without education, no one would come to the county to work.
"We need to train our people. We're in a position where we need to educate our people in jobs that they can use," he said.
Regarding law enforcement, Metz said if the county isn't a safe place to live and work, economic development will not come.
"One of the main things that people look at when they come to an area is what are the amenities in that area," he said. 
Solar
While he is a staunch supporter of property rights, Metz believes the county's response to solar energy projects needs to be done the correct way.
"I worked very hard for the land I have, and my father worked before me. If I want to sell that land, I should have that right. I also have the need to be aware of my neighbors. If I went to put a hog farm in, people wouldn't like it very much, or maybe a junkyard," he said.
Metz said he thinks residents should be cognizant of the needs of their neighbors. He also believes setbacks should be done "with low vegetation, medium, and high so that we have setbacks that the property owners besides of them won't lose the value of their property."
One thing that will determine where solar farms will go is the availability of transfer stations to connect to the solar farms, and this is why the Axton area is popular for the farms, Metz said.
"We have got to check to make sure that these companies that have created LLCs, which gives them one more movement away from responsibility" and often have contracts with a stipulation called force majeure, a legal term that basically means "if circumstances are whether it's economic or whatever are uncontrollable," the LLC has "the right to get out of the contract," Metz said. 
"We have to make sure that the contracts (for solar projects) in Henry County don't have that clause in them. We need to make sure that we have a way of disposing of them," he said. 
Cobler said she has a basic understanding of solar energy and in listening to constituents understands that "our constituents in Henry County are saying overwhelmingly that they do not want Southern Virginia, Southside Virginia, Southwestern Virginia to become the home of solar farms."
If elected, Colber said she would listen to the voters and do what is best for Henry County as a whole for what residents want for their land and their lives.
Solar farms "do produce tax revenue for the county, but the landowner is the clear beneficiary of any solar project. There is no permanent economic advantage, except to the land owner," she said.
Cobler believes that a 1-percent cap on solar farms is reasonable and well justified. She said she supports the board's decision.
"Let's face it, are these electrons that are flying around with the solar panels really benefiting a single person in Henry County once they hit the grid," she asked rhetorically. 
Reversion
Cobler said there are many areas where Henry County and the City of Martinsville can work together, and some areas where partnerships are already in place, including the jail, as well as parks and recreation.
"Other areas could include public works, maintenance, common facilities, office use and space, and the use of technology. It can all be done without reversion, without raising taxes, and through attrition," she said.
Cobler said this is not a new concept as the city and the county have had Revenue Sharing Agreements in place for years at the industrial parks. 
"I am not supportive of reversion, but I am supportive of continued and improved communication and collaboration," she said.
Metz said the reversion issue has been going on for several years and will continue to do so.
"In the end, I think we're going to have to deal with reversion, I don't think the city has any choice when it gets down to the bottom line. I think they're going to have to do something, and unfortunately, or fortunately, we, the county, have to be ready to do what's necessary," he said.
Metz believes the General Assembly will have to play a part in this since it will have to set up the guidelines for this in the end.
"As it's set up now, it's not really clear in the guidelines," he said. "We spent a couple of million dollars going in and out of this reversion" and those funds were taxpayer money.