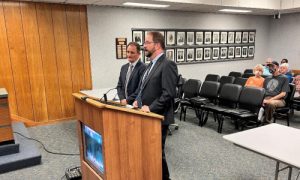 Vice Mayor Aaron Rawls will resign from his day job effective April 14, with plans to take a few months and pursue projects in the city.
Rawls, Chief Information Officer from Madison Taylor Marketing, made the announcement at a Tuesday meeting of the Martinsville City Council.
Rawls said he plans to "take a few months to just focus on Martinsville. I make no promises I will get all of these done," but the more people who are interested in and join the effort, "the more traction" those projects will get.
One area he said is near and dear is ordinance and code enforcement of vacant properties. "It's time to bring out the stick," Rawls said.
Other focal points he listed are event planning, city cleanup efforts, energy efficiency, and weatherization plans, overnight emergency shelter and transportation programs, and traffic and parking issues.
Anyone who is interested in helping work in either area is encouraged to contact Rawls.
Also at the meeting Tuesday: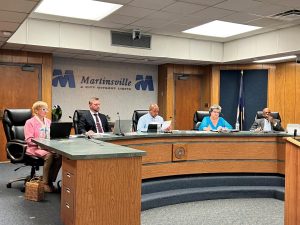 *City officials heard from representatives of the Richmond-based law firm Sands Anderson PC, which the city selected to serve as the city attorney. Attorneys Steve Durbin and Jesse Bausch represented the firm at the meeting.
"We pride ourselves on a real depth of knowledge because we specialize in local government," Durbin said. The firm represents multiple counties and has experts in the areas of land use, real estate, and various other areas.
*Heard the week of April 23-April 29 has been deemed National Library Week. Council member Tammy Pearson read a proclamation for National Library Week recognizing Blue Ridge Regional Library for the services it provides within the local community.
"During this week we encourage all residents to visit the Blue Ridge Regional Library," read Pearson.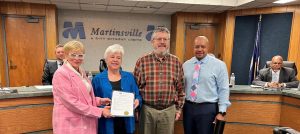 *Council member Lawrence Mitchell addressed a recent accident involving an ATV on Second Street in the City of Martinsville.
"I would like to appeal to the public, to families, and the children out there riding. This is a dangerous practice," Mitchell said. He wants to ensure residents are aware of the hazards and noted that recreational vehicles are not to be operated on city streets.
*April was named Fair Housing Month.
*A basketball game will be held on Saturday, April 15 at Martinsville Middle School between MHS juniors and seniors, who will play against faculty and staff members. The tickets are $6 and will be sold at the door starting at 6:30 p.m.
*The Garden Tour will be on April 19. Funds raised from the tour are used for beautification efforts, Pearson said.
*Hazardous waste day is April 22 from 9 a.m. to 12 p.m. at the PSA warehouse in Bassett.
*Drug Take Back Day is April 22. Drive through at the Martinsville Fire Department on Church Street, from 10 a.m. to 2 p.m.