Broke Mountain Bluegrass Band, two nights of Daniel Donato's Cosmic Country, TAUK Moore, Dogs in a Pile, Yarn, Mountain Grass Unit, Isaac Hadden Organ Trio, Sol Driven Train, J & The Causeways, Colby T. Helms & The Virginia Creepers, Clay Street Unit, Mighty Joshua
Another 30 bands to be announced in the coming months!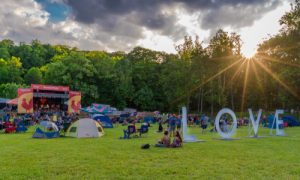 Broke Mountain Bluegrass Band will perform its first East Coast set in nearly 20 years at the 14th annual Rooster Walk Music & Arts Festival, set for May 23-26, at Pop's Farm in Martinsville, Va.
A bluegrass band from Colorado, Broke Mountain was formed in 2003 by a group of then-unknown, incredibly talented college musicians in their very early 20s. Remarkably, the members went to establish star-studded careers in nationally touring bluegrass bands. Broke Mountain is comprised of Anders Beck (dobro/Greensky Bluegrass), Travis Book (bass/Infamous Stringdusters), Robin Davis (mandolin/The Robin Davis Duo), Jon Stickley (guitar/Jon Stickley Trio) and Andy Thorn (banjo/Leftover Salmon).  Broke Mountain juggled college studies and touring duties in the summers of 2003 and 2004 in Colorado and surrounding states before parting ways to accept full-time touring gigs with other bands. Now celebrating its 20th anniversary with a full album re-release, Broke Mountain's Rooster Walk debut will also double as its first ever East Coast festival set.
In contrast to Broke Mountain, Daniel Donato's Cosmic Country will perform for the third consecutive year at Rooster Walk. The band, led by electric guitar virtuoso Daniel Donato, has been one of the fastest-growing acts in the country over the past two years, selling out venues from coast to coast. Daniel Donato will perform two nights at RW14.
Also joining the first band announcement is TAUK Moore, a special collaboration between TAUK and female powerhouse vocalist Kanika Moore. A largely instrumental jam band, TAUK has performed late-night sets at RW multiple times in the past 10 years. They will be joined for the full set by Moore, the lead singer of Doom Flamingo, which played a late-night set at RW13 last May.
Other bands announced Tuesday include:  Dogs in a Pile (a New Jersey-based funk/jazz/rock jamband surging in nationwide popularity); Yarn (NC/NY roots rockers who will once again perform an original set and a festival-finishing tribute set); Mountain Grass Unit (up and coming bluegrass shredders from Alabama); Isaac Hadden Organ Trio (masterful musicianship from a North Carolina power trio); Sol Driven Train (upbeat, horn-driven rock'n'roll beach vibes from Charleston, SC); J & The Causeways (New Orleans-based soul powerhouse reminiscent of St. Paul & The Broken Bones); Colby T. Helms & The Virginia Creepers (a captivating bluegrass band from nearby Franklin County, Va.); Clay Street Unit (Colorado-based honky tonk/roots rock); and Mighty Joshua (authentic reggae from central Virginia).
More than 30 additional bands will be added to the lineup, including the overall headliners, in the coming months.
Tickets for Rooster Walk 14 go on sale at noon Friday (Oct. 27, 2023) at the newly redesigned www.roosterwalk.com, which also features all the information needed to plan for an amazing experience. 
The festival will take place Thursday-Sunday of Memorial Day weekend in the rolling foothills surrounding Martinsville, Va. Rooster Walk is a 4-day festival celebrating music, art, and the great outdoors at the idyllic Pop's Farm venue. With roughly 50 bands performing on 6 different stages, and an amazing roster of stellar music steers the Rooster Walk experience. 
In addition to approximately 80 sets of live music, the family-friendly Rooster Walk will offer a wide variety of kids' programming, family fun, craft beer, great food, arts and numerous opportunities to enjoy Virginia's great outdoors with kayak river floats, pedal boats, bike rides, yoga, a disc golf course and beautiful on-site camping.
Rooster Walk has been named one of the Top 5 festivals in the state by the Richmond-Times Dispatch. It also was voted the region's Most Creative Charitable Event by readers of Virginia Living Magazine for three consecutive years. The festival was created in memory of late Martinsville natives Edwin "The Rooster" Penn and Walker Shank, who graduated from Martinsville High School in 2000.
A portion of proceeds from the festival will be donated to local and regional charities, including Rooster Walk's own Penn-Shank Memorial Endowment Scholarship Fund for students at Martinsville High School, and the Rooster Walk Music Instrument Program for public band programs in the local city and county school systems.
The festival is produced by Rooster Walk Inc., a 501c3 nonprofit dedicated to promoting music, arts and education in its home of Martinsville-Henry County. Since 2009, Rooster Walk Inc. has donated more than $320,000 to local and regional charities.