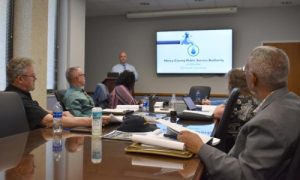 The approximately $15 million spending plan for the upcoming fiscal year presented to the Henry County Public Service Authority (PSA) Board on April 17 includes a recommendation to finance the annual debt service and operating costs to guarantee water rights for three million gallons per day (MGD) from Philpott Lake as part of a study conducted by the U.S. Army Corps of Engineers (USACE).
"It is important that we act to secure these rights for water withdrawals so that we can meet the future demands for clean drinking water in our community," Dale Wagoner, general manager of the PSA, said when making the presentation. "This forward-thinking plan will pay dividends as we continue to attract new industries and residents to Henry County."
The projected cost to guarantee rights for 3MGD is $873,000 which can be financed with the USACE. Annual operating costs associated with the project would amount to $85,000.
Overall, the proposed FY24 budget increased by $3,051,429 from the current fiscal year. It includes approximately $5 million for capital improvements and debt service.
The proposal doesn't include any rate adjustments, which makes it the tenth year in a row without an increase.
PSA employees are set to receive a five percent pay increase starting July 1 if the proposal is approved. Also included in the plan is a recommendation that the PSA continue working with the county to implement the results of a pay and classification study conducted within the last year.
Funds included in the proposed budget would address a number of capital items, including water system rehabilitation, a track loader for infrastructure maintenance, sewer inflow, and infiltration, and a preliminary engineering report to consider extending water lines along Old Liberty Drive, Spruce Street, and Mt. Olivet Road.