SME, the national nonprofit committed to accelerating new manufacturing technology adoption and building North America's manufacturing talent and capabilities, announced a new initiative today involving a partnership with community and technical colleges to address the urgency of revitalizing manufacturing's industrial base, growing the industry's talent pipeline, and enhancing the skills and productivity of manufacturing workers.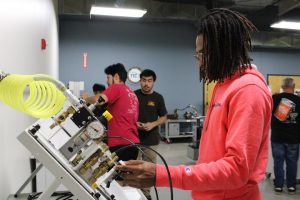 The Manufacturing Imperative – Workforce Pipeline Challenge (MI-WPC) launches this fall and combines the industry and workforce expertise of SME with the educational programs and innovations of a select group of US community and technical colleges, including Patrick & Henry Community College. The initiative builds awareness of careers in manufacturing, optimizes workforce systems and accelerates the education and skill development needed to place individuals in jobs making family-sustaining wages.
"I am pleased to celebrate SME's newest initiative, the Manufacturing Imperative – Workforce Pipeline Challenge to help address the national workforce crisis facing our manufacturing sector," said US Department of Education Assistant Secretary Amy Lloyd. "We appreciate SME's leadership and willingness to bring together the national voice of manufacturers alongside our nation's community and technical colleges to address local and regional labor market needs and support efforts to invest in American and prepare youth and adults for good jobs."
Through the Workforce Pipeline Challenge, SME will work with schools to conduct a labor analysis of the local, regional, and state landscape; develop and expand sector strategies to attract new populations – particularly those under-served and under-represented in the workforce; and implement new programs, curriculum and applicable certifications to develop skilled individuals that are ready to hire for the vast array of growing, unfilled positions in manufacturing.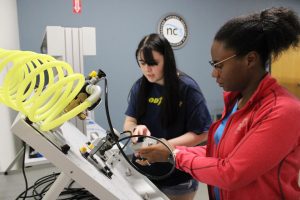 Jeannine Kunz, SME's chief workforce development officer, explained the key motivation behind launching the initiative: "SME, along with many other industry organizations, understands that manufacturing is a critical engine of America's economic strength and national security, playing a role in almost every sector of our economy. It is our responsibility to support the development of a diverse and qualified talent pool by stepping up our efforts and investments to strengthen the manufacturing supply chain with technically skilled individuals. Only then can we ensure our industrial base remains resilient now and into the future."
"Patrick & Henry Community College has worked strategically for the last 10 years to develop and expand training programs and facilities to address the workforce needs of our manufacturing employers and prepare our students with the skills needed for careers that provide family-sustaining wages. Through the Manufacturing Imperative-Workforce Pipeline Challenge, we look forward to sharing our best practices and learning from others, a model of collaboration at the heart of community colleges, in order to address the labor force challenges for the manufacturing industry. While P&HCC enjoys strong partnerships with manufacturers in our region, we are excited to add national resources, like SME and their partners, to our work," said Rhonda Hodges, P&HCC Vice President for Workforce, Economic & Community Development.
The Workforce Pipeline Challenge is a three-year pilot program with a goal to attract 1,000 individuals at each of the initial 25 participating community and technical colleges annually, resulting in 75,000 or more qualified workers in pursuit of manufacturing careers. The estimated economic impact of growing the industry's workforce in this way is $6 billion. Best practices identified throughout the program will be shared nationally to help other programs implement innovative solutions to grow local economies, reduce barriers to employment, and fill vacant manufacturing jobs.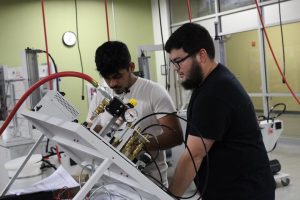 The partnership between SME and the initial institutions will leverage a strong alliance with the National Coalition of Advanced Technology Centers (NCATC). Craig McAtee, NCATC's executive director shares that "any advanced manufacturing, workforce development initiative led by SME is top-notch and impactful for education, students, and employers across America – NCATC is inspired to be a partner o the SME Manufacturing Imperative – Workforce Pipeline Challenge."
P&HCC President Dr. Greg Hodges said," Patrick & Henry Community College is deeply honored to be among the select group of community colleges in the country invited to address the nation's need to maximize American manufacturing. We are thrilled to help create national and scalable models that accelerate the development of a diverse workforce pipeline leading to high paying jobs in our college's service region. Manufacturing has been our region's largest employment sector for decades, and P&HCC possesses the facilities, faculty, staff, and state-of-the art equipment to educate and train our citizens while also increasing our country's competitiveness on the global stage."
In addition to Patrick & Henry Community College, Wallace State Community College (AL), WSU Tech (KS), Grand Rapids Community College (MI), Wake Tech Community College (NC), Columbus State Community College (OH), Tulsa Community College (OK), Greenville Technical College (SC), and Lonestar Community College (TX) have committed to a specific set of requirements, demonstrating commitment to this national approach to pipeline development and to implementing innovative solutions to address long-standing industry challenges. Their collective voices will also inform legislation, policy and funding. Based on the program's collective success, SME looks forward to expanding this initiative beyond the initial 25 pilot institutions.